In just a matter of months, the coronavirus pandemic has completely turned our lives upside down. From the way in which we attend events to how we communicate with friends and colleagues, the pandemic has forced us to take things online.
One of the platforms experiencing a boost due to COVID-19 is Facebook, where more and more people in the UK are using the site to keep in touch with friends and family, and seek entertaining content to get them through these difficult times.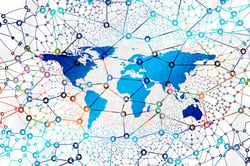 For recruitment firms, Facebook's resurgence presents them with an opportunity to reach their audience on a social media network that not too long ago was experiencing a decline in active users.
Here are some tips that recruitment agencies can use to re-engage lapsed followers and attract new ones too.
Seven ways to help your recruitment firm increase engagement during the coronavirus
1. Use positive news stories to spark conversation
One of the biggest oversights made by recruitment firms on social media is using their channels to simply post jobs, company news and blogs. Curated content, as our 'Rule of Thirds' model demonstrates, can be extremely valuable to your followers.
By developing candidate personas to gain a deep insight into their personal and professional interests, you can curate content that adds value and sparks discussion.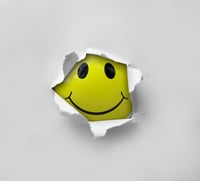 And especially in these challenging times, social media users are looking for positive, uplifting stories that will put a smile on their faces. Try searching for uplifting news articles that publications in the sectors you recruit for are producing. For example, despite the intense pressure that the health and social care sector is experiencing during the coronavirus pandemic, many of its publications are highlighting the life-changing efforts that frontline staff and care homes are making.
2. Ask questions
Questions and polls can be a great way of generating engagement on Facebook. You should focus on posing questions that enable you to gain more of an insight about your audience – whether it's a professional question or something more light-hearted. For example, you could invite comments by asking your audience what their biggest challenges are right now, or what has made them smile this week.
Alternatively, you could make use of Facebook's two answer poll feature and pit two options against each other to see which comes out on top.
3. Run a competition
If implemented correctly, competitions can be a great way to attract new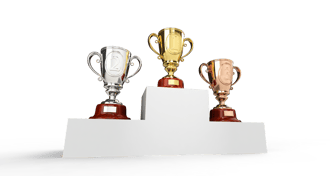 followers. However, they must be highly targeted in terms of the prize given away so that you attract those who are likely to be potential candidates rather than 'compers' – individuals who regular enter competitions in order to win as many prizes as possible. To do this, you should consider prizes catered towards the professional interests of your audience, such as books, rather than Amazon gift cards.
It is important to add that it must adhere to Facebook's guidelines on competitions and promotions which includes two rules that pages often break. These are that personal timelines and friend connections must not be used to administer promotions. This means competitions that require users to undertake actions such as 'share on your Timeline to enter', 'share on your friend's timeline to get additional entries' or 'tag your friends in this post to enter' are not permitted and risk the Facebook page being banned.
4. Use strong calls-to-action
Including direct calls-to-actions can be a fantastic way to elicit the desired response from your audience. For example, if you are posting information on the government's Coronavirus Job Retention Scheme, you should add a call-to-action such as 'Do you know any friends or family who are being furloughed? Share our expert advice with them.'
This means that even if the content doesn't appeal directly to the individual who has seen the post, they might know someone who will benefit from it and can share the post with them on Facebook. This virtual word of mouth approach means that you can reach more potential candidates, and help position your brand as a 'go to' resource for all things recruitment and employment related during the coronavirus pandemic.
5. Post in Facebook Groups
I've previously written about the potential Facebook Groups yield for recruitment firms, and whilst investing your time and resources in developing an engaged community is not a decision that is taken lightly, you can still utilise the power of groups for your recruitment firm.
This is because you are able to join and post in Facebook Groups as your Facebook Page. This allows you to share the latest jobs, blogs and virtual events in groups that welcome this content. Try looking for sector specific and regional job groups to share relevant content in.
6. Use Facebook Live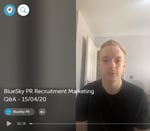 Live video can be incredibly effective at capturing the attentions of users on social media with Facebook data highlighting that live video generates six times as many interactions than a pre-recorded video.
And with the majority of the country spending their days at home because of lockdown, this presents you with a fantastic opportunity to provide this captive audience with real value.
For example, what challenges are your audience currently facing? Are they struggling with remote working? Or are they preparing for their first ever video interviews? Look at how you can develop solutions that address these issues in an engaging way, such as a Q&A session with one of your recruitment consultants who is experienced in this area.
7. Always respond to comments
Social media is all about two way conversation so if you receive a comment on a post, you should make sure that you respond. Even if it's a question that could be answered via Messenger, replying shows users that you are responsive and helps humanise your brand by highlighting that you are much more than a logo on a Facebook Page.
This approach also helps with where your posts appear in the news feeds of users, as comments – particularly those longer than a sentence or two – signify to the Facebook algorithm that this content is likely to be of interest to a wider number of your page followers.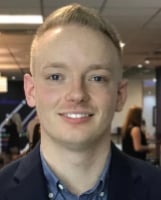 Author: Dan Stobbs