In an increasingly candidate-led market, it is more important than ever that your recruitment firm's marketing is as effective as can be. Candidate personas enable you to successfully target jobseekers and produce compelling content that resonates with them so that you can save time, money and resources on finding the perfect candidate for your client.
What are candidate personas?
A candidate persona is a semi-fictional representation of your recruitment firm's ideal applicant for a specific job role. A persona is created by defining the characteristics, skills and traits that make up the perfect hire.
It will enable you to:
Identify the talent that is the perfect fit for the role you are recruiting for.
Understand the most relevant channels to target candidates on.
Produce tailored marketing content, such as blogs, social media posts and emails.
Create alignment across your firm's marketing and recruitment functions.
Provide detailed data to feed into your overall recruitment marketing strategy.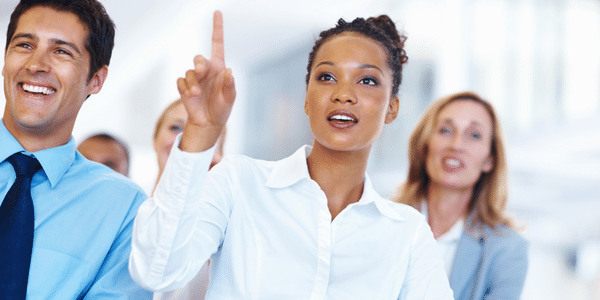 Where to source data for candidate personas?
So how can you start gathering the required data to develop your personas? Here are four simple methods that your recruitment firm can implement:
Integrate into the on-boarding process


You should liaise with your recruitment consultants to ensure that they are asking relevant questions and recording the responses they receive into dedicated fields of your CRM system.



Look at the LinkedIn profiles of candidates


If their profiles have been completed and they actively use the platform, candidates' LinkedIn profiles will provide a wealth of valuable information, from their employment history and qualifications through to the type of content that they engage with and the LinkedIn groups they are members of.



Interview previously hired candidates


You should work with your consultants to ensure that their follow up communications with successfully placed candidates include questions on their career aspirations and interests. This will provide you with regular insights that you can use to develop and refine your personas.



Send out targeted surveys that offer an incentive


You should segment your database into small groups and target individuals with themed surveys containing questions relevant to their job roles. For example, you could design one that aims to find out the top bugbears of applying for a new role or what the biggest challenges facing finance managers in 2022 are. Offering a small prize or incentive, such as a gift card for a lucky respondent, will help increase participation.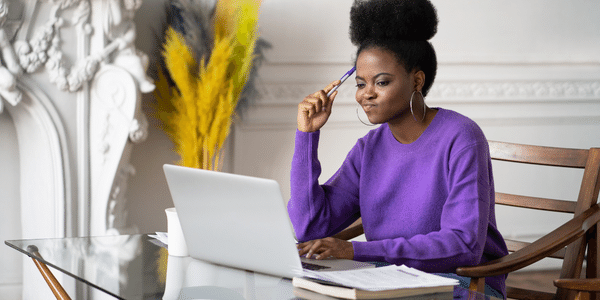 What questions should you ask?
It is vital to gain detailed insights into your candidates if you are to produce personas which are both useful and accurate. To do this effectively, you should ask a diverse range of questions that cover their demographics, psychographics and webographics.
These have been broken down into six categories in the template below and will provide you with a wealth of qualitative data to work through. Whilst you may not be able to find answers to every single question that is listed, the more information you have the more accurate your candidate persona will be.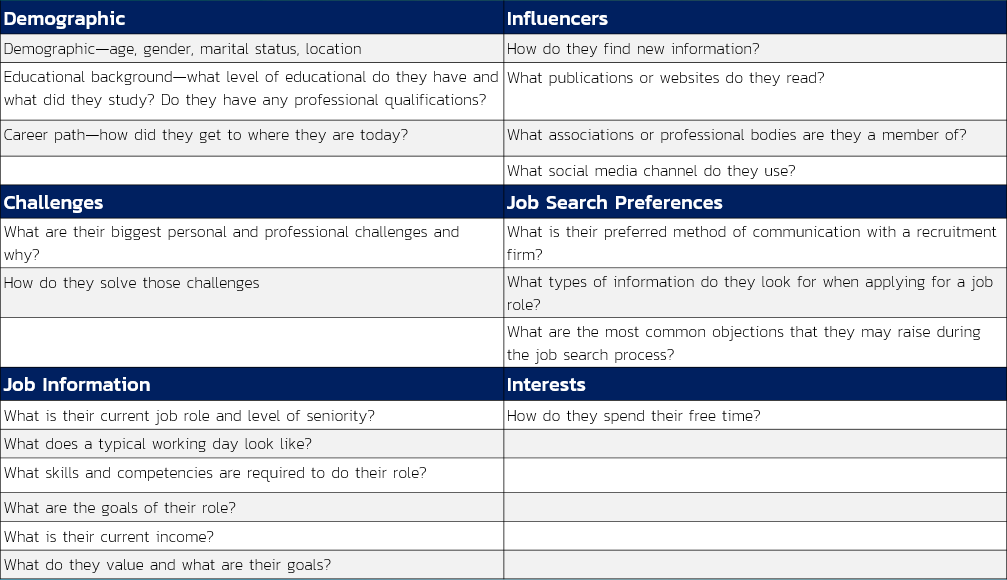 How to analyse candidate persona data?
Once you have collated this data you will need to carefully work through it to identify any recurring themes or trends and use this to highlight your audiences' key characteristics.
I recommend working with your recruiters to ensure that you are getting more than one function's perspective. This will also give you the opportunity to tap into and cross-reference their pre-existing knowledge of candidates' interests, aspirations and challenges.
Once you have finalised their ideal characteristics you should try and have a little fun with your candidate personas by bringing them to life and making them memorable with a suitable name and image (like the example below).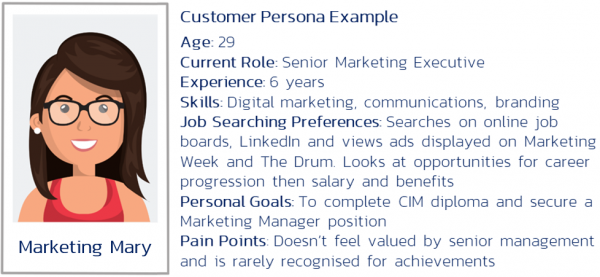 Are you looking for support with your recruitment firm's marketing? Get in touch today to find out how the BlueSky PR team can help.
Originally published February 2019, updated May 2022