Did you know that you can see the social media ads your competitors in the recruitment industry are running?
This blog post explains how you can view your rivals' social media ads and gain the insights needed to enhance your recruitment firm's paid social media campaigns.
A brief history: making social media advertising transparent
Back in 2018, Facebook and Twitter announced that their advertising solutions would be made far more transparent in light of the Cambridge Analytica scandal and allegations of political interference in the UK and US. This led to the social media giants rolling out tools which allow users to view the ads businesses have been running on the platforms – regardless of whether they are the intended audience or not.
In 2019, LinkedIn followed suit and implemented a similar method for its own site. Since the introduction of these tools, they have been refined and updated to provide users with more data than ever before. Whilst these moves were made due to pressure from politicians, marketers have undoubtedly benefited from their roll out – using these insights to monitor competitors' paid social media campaigns.
How to view competitors' ads on Facebook
Not only does Facebook's ad transparency feature, Facebook Ads Library, enable you to view the ads that a page is currently running on Facebook, but it also includes those appearing on Instagram and Messenger as well as its Audience Network (which is where ads appear on apps and news websites). Here's how to use it in four simple steps.
First, visit the Facebook page of the competitor whose adverts that you would like to view.
Click on 'See all' in the 'Page Transparency' section which is on the left-hand side of the page.
The 'Page Transparency' will pop up. Scroll down and 'Ads from this Page' will tell you whether or not the business is currently running any ads.
Click on 'Go to Ad Library' and this will enable you to view all active and inactive ads associated with that business across Facebook, Instagram, Messenger and the Audience Network.
Whilst you can't see the likes and comments the ads have generated, you can interact with them. This means that, for example, you could watch a video post or click through to an ad's landing page. Facebook's Ad Library also allows you to see the date that ads went live and filter them by the platform they have appeared on, as well as the country.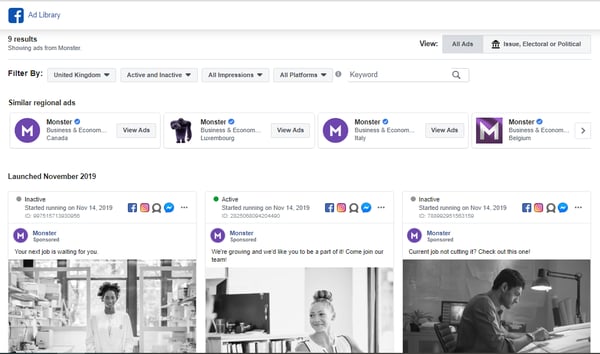 How to view competitors' ads on Twitter
In June 2018, Twitter launched the Ad Transparency Center which enabled users to view all the ads being run by any Twitter profile at any given time.
However, on 25 January 2021 this feature was quietly removed with Twitter stating that only 'archived data from all Political ads that ran between May 24, 2018 and November 22, 2019 and Issue ads that ran between August 08, 2018 and November 22, 2019' would be available. To date, no direct replacement for the Ad Transparency Center has been announced, however they do now publish a transparency report .
How to view competitors' ads on LinkedIn
Here's how you can view other recruitment brands' sponsored LinkedIn posts by using the Ads tab function.
Visit the page of the company whose ads you would like to see.
Scroll down the page and under the 'Posts' heading click on 'Ads'.
You will then be able to view any recently active or active Sponsored Content posted by the company that has been shown to at least one member in the past six months. Interestingly, this also includes ads that have been shown on the platform and then later reported and rejected. However, similar to Facebook's approach you are unable to see the levels of visible engagement the ads have received from users but can interact with the ads to view any media and landing pages.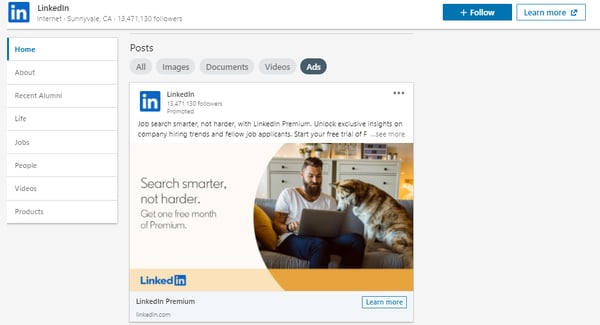 How can I use these social media advertising tools to my advantage?
The tools provided by Facebook, Twitter and LinkedIn can provide you with some valuable insights into your competitors' social media marketing strategies. Here are four key areas that you should focus on when reviewing your rivals' paid social media posts:
1. What is the purpose of the ad?
Are they focusing on candidate or client acquisition? Do they appear to be using paid social to advertise a role that they are struggling to fill? Or are they hiring internally?
2. What messaging is used?
Does the copy hook you in? Is it consistent with the rest of their online and offline messaging? Are they using industry buzzwords? What are you doing to differentiate your firm's own messaging?
3. What creative is used?
What ad formats are they using? What is the quality of the imagery or video like? Would it stop you in your tracks when scrolling through your feed? And what is it communicating?
4. Does it link to a landing page?
If so, is the page design aesthetically pleasing? Does it use a lead capture form? What is the call-to-action?
By using these questions to drill down and evaluate your competitors' social media ads you will gain a deeper understanding into how effective their paid social is, if there are any potential opportunities that you could exploit and be able to highlight any improvements that you could make to your own campaigns.
Originally posted December 2018, updated August 2022