Did you know that you can see the Facebook and Twitter ads your competitors in the recruitment industry are running?
In 2018, Facebook and Twitter both announced that their advertising solutions would be made far more transparent in light of the Cambridge Analytica scandal and allegations of political interference. This has led to the introduction of tools which allow users of both platforms to view the ads companies have been running – regardless of whether they are the intended target audience or not.
Here's how to view your rivals' social media ads and gain insights that you can use to enhance your recruitment firm's paid social media campaigns.
How to View Competitors' Ads on Facebook
Not only does Facebook's ad transparency feature enable you to view the ads that a page is currently running on Facebook, but it also includes those on Instagram and Messenger as well. Here's how to use it in four simple steps.
First, visit the Facebook page of the competitor whose adverts that you would like to view
Click on 'See More' in the 'Page Transparency' section
Under 'Ads from this Page' select to 'Go to Ad Library'
Whilst you can't see the likes and comments the ads have generated, you can interact with them. This means that, for example, you could watch a video post or click through to an ad's landing page.


How to View Competitors' Ads on Twitter
Here's how to view your rivals' promoted tweets.
Visit the Ads Transparency Center
The layout of this sub-site replicates the standard Twitter feed. Click the search box in the top right-hand corner and then type the name or Twitter handle of the firm whose ads you would like to see
You will then be taken to a page which displays all of the tweets that the business has promoted over the last seven days
Unlike Facebook's tool, Twitter's Ads Transparency Center displays the engagement each promoted tweet has received in the form of retweets and likes but not replies. You are also able to interact with the tweet's media and click through to visit its landing page.

How Can I Use These Tools to My Advantage?
Facebook and Twitter's transparency tools can provide you with some valuable insights into your competitors' social media marketing strategies. Here are four key areas that you should focus on when reviewing your rivals' paid social media posts:
1. What is the purpose of the ad?
Are they focusing on candidate or client acquisition? Do they appear to be using paid social to advertise a role that they are struggling to fill? Or are they hiring themselves?
2. What messaging is used?
Does the copy hook you in? Is it consistent with the rest of their online and offline messaging? Are they using industry buzzwords? What are you doing to differentiate your firm's messaging?
3. What creative is used?
What ad formats are they using? What is the quality of the imagery or video like? And what is it communicating?
4. Does it link to a landing page?
If so, is the page design aesthetically pleasing? Does it use a lead capture form? What is the call-to-action?
By using these questions to drill down and evaluate your competitors' social media ads you will gain a deeper understanding into how effective their paid social is, if there are any potential opportunities that you could exploit and be able to highlight any improvements that you could make to your own campaigns.
Is your recruitment firm looking for social media support? Get in touch today to find out about our range of social media management and consultancy services.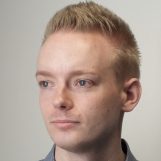 Author: Dan Stobbs