Missed our webinar with Barclay Jones earlier today on 5 things to stop doing with your recruitment marketing? Watch the video.
5 things to stop doing with your recruitment marketing
STOP looking at PR as a vanity project – have objectives and measure outcomes
STOP creating content and not marketing it
STOP writing crap job adverts and blaming the advert and the talent who applies
STOP sending out press releases about what you do… no-one cares
STOP using billers to write blogs
Tracey and Lisa's top recruitment PR and marketing tips from the webinar
Focus on the objectives of your content strategy
Content is a tactic
There's a lot of crap content out there
Keeping your brand a secret isn't a great tactic
Leverage, stretch and repurpose your press coverage to get maximum ROI
Think of job ads as content – not a rehash of the job spec
Build your recruitment marketing strategy around your target market
Stop telling people what you do – no-one cares – tell them what you know
Promote the success of your marketing activities internally and take credit for the sales you contribute to
Think about how you can get content from recruiters without asking them to stop billing
Use PR as a business development tool
Shocking stats from today's recruitment agency polls
58% of recruitment firms hardy ever appear in the media outside of the recruitment press
42% of recruitment consultancies are generating valuable leads and talent with their content – if you're not one of them you're missing out
75% of recruitment businesses say they have lots to say but they don't know how to create or send a press release
71% of recruitment marketers say getting recruiters to give them content is like trying to pull teeth
Looking to build PR into your business development strategy? For more tips on how to leverage your media coverage read more from the BlueSky PR Blog or check out our social media posts with the hashtag #morethanPR
Need help producing content that delivers ROI? Call Tracey on 01582 790700 or request a call back.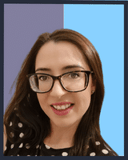 Author: Jennifer Wright