Over the past few years the one constant has been change. Recruitment marketers have had to learn how to plan (and often re-plan) in times of uncertainty. With a recession being one of the predictions for 2023, here are five tips to ensure your 2023 recruitment marketing strategy is fit for purpose:
Be personable, relatable and honest
Remote or hybrid working may have made some of us feel isolated but it has also created a stronger bond between our personal and professional lives. Within the time span of a video call, we have shared a background populated by flatmates, family or children asking us whether they could have 'two biscuits' – amalgamating our personal and professional lives in a way they had never been before.
It therefore comes as no surprise that communication has become more 'human' and, consequently, there is an expectation from stakeholders that any marketing initiatives need to be not only personable, but also relatable.
A case in point is the rise of 'talking head' videos that have sprung up on social media over the past few years, where recruiters have been getting their message across in a more approachable way. And being this personal (and less polished or filtered) will definitely remain key to communication in 2023, as people are more inclined to connect and relate with individuals than with a brand. The 2022 emphasis on personal brands doesn't look to be going anywhere any time soon.
Thought leadership
Taking that one step further... the knowledge and expertise of your consultants and recruiters is what will allow you to stop fighting for a space in the crowd. This is your consultants' time to shine: having team members with informed yet unique voices can and will ensure more engagement, as well as generate more leads.
Marcomms teams, however, are the ones responsible for getting these messages across beyond the team members' own social media accounts, keeping an eye on the wants and needs of the audience and making sure you are sharing content that solves their pain points.
This is particularly true when it comes to stealing the attention of the wider public - what is your potential audience interested in right now? How can you reach those who are hovering around your company but are still unsure whether you are the right fit? Building the foundations now for a fruitious, collaborative relationship between recruiters and marketeers can ensure that your expert voice can get through the right channels to the right audience.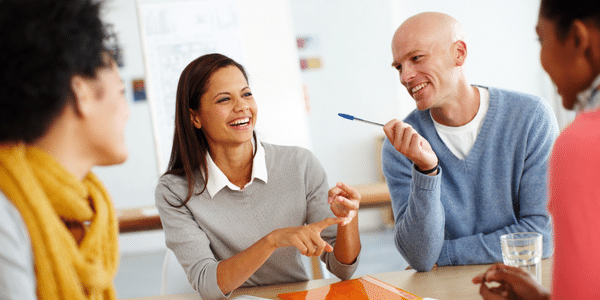 Employee engagement
This collaborative communication process is perhaps responsible for another big change brought about by the pandemic - a renewed appreciation for the work of marcomms teams. Communication has been critical for business survival, and 2023 will require this collaborative momentum to keep going.
Your employees need to be at the forefront of the conversation, not only engaging with company content on social media and positioning themselves as experts within the industry, but also exploring more personal topics which could strengthen the person-to-person connection with clients and candidates. A clear example can be Equality, Diversity and Inclusion – becoming part of the inclusivity conversation is not only the right thing to do, but also creates a fertile ground for likeminded individuals to connect with a firm that shares their priorities and values.
The sales team will also need to maintain a close collaboration with the marketing team as business development becomes tougher and consultants need a strong hook to strike up a conversation with new clients.
Repurpose
We all know how much time and effort it takes to write a valuable piece of content – so why should it just sit on your website?
Repurposing and reusing content became key in 2020, especially to fill in the gaps created by the lack of live, face-to-face initiatives. And now we've started we're not going back. Not only is refreshing content (like this blog post) on your website good for SEO and keeping content relevant for your readers, repurposing content into different formats such as turning it into a video or infographic means less time spent researching to come up with new ideas, and ways to use already successful content to get in front of a wider audience.
The three Rs: reassess, refine and reflect
Just like your content will need tweaking from time to time, the pandemic taught us that we need to always be ready to review our strategies. Your audience will be the first one to notice if you are not keeping up with the times - so staying on top of what your clients, candidates and prospects need and feeding this into your content is fundamental to success.
It is virtually impossible to refine your marketing strategy and make it work if you have not spent the necessary time reviewing what is already out there and how your content is performing. We learn from our successes as much as we learn from our losses: if a piece has not had as much pick up as you would expect, it does not mean it has failed, it means it needs to be edited. 2023 is the year of agility, and the next two or three years will, most likely, follow suit.
Having a plan is good, but having the ability to refine it as necessary is key in today's ever changing climate.
Originally published December 2021, updated December 2022