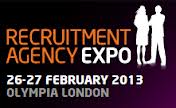 Following on from the success of this year's Recruitment Agency Expo, the BlueSky PR team will not only be exhibiting at the 2013 event, but will also again be presenting on both days. The Expo is an ideal opportunity for agencies to network with fellow professionals, receive advice from industry experts, and meet companies exhibiting services relevant to their business. And you can sign up, for free, right now.
Our MD, Tracey Barrett (Dunn), will be sharing her pearls of wisdom on 'How to create a brand – and keep it!' We all know how crowded the recruitment market is and PR can be a fantastic tool to differentiate yourself from the competition. However it's what you do with PR that really makes the difference– how you disseminate your message through all the channels available is what will help leverage your brand. Tracey will be focussing on how organisations can use the different channels at their disposal to shape both a brand and crucially its reputation.
So whatever the driving force is for increasing your brand awareness – from positioning for an exit to targeting a particular client or candidate base – Tracey's seminar is a must. And if the success & popularity of her presentations earlier this year are anything to go by you'll need to book your place soon.
So why not come and see Tracey, and the rest of the BlueSky team, on 26th & 27th February at London's Olympia? We'd love to meet you or grab a coffee with you while you're there! We'll be on stand 110 and Tracey's presentation will take place at the following times:
Tuesday 26th February 1-1:30pm Book now
Wednesday 27th February 2-2:30pm Book now