Yesterday I undertook an MBA in one day. First I learned about finance – how to price commodities, the intricacies of corporate bankruptcy and what tactics airlines use to price tickets optimally. Then I moved onto organisational behaviour and discussed how best to structure interpersonal networks in the pursuit of innovation. Lunch was spent talking about a start-up craft beer initiative, an app that gamifies city walking tours and how Georgia has built on its history to successfully market wine – all over excellent Korean food and drink, I might add. In the afternoon there were lessons on why it isn't always a good idea to innovate, how 'citizen science' helps researchers to collect large data sets, why 'joiners' are at least as important as founders and, variously, the best way for salespeople to negotiate, reprimand customers and inspire colleagues. Ok – so perhaps not quite a whole MBA – but a full and incredibly informative day nonetheless. This is the part of my job that I love the most; meeting smart people and talking about their ideas and opinions. In this instance the context was a day on campus visiting a long-standing client, German business school ESMT Berlin to meet with various faculty members and a group of MBA students. I have been doing this job a while now and have been to many business schools and met with many faculty members and students – but the enthusiasm, insight and talent of the people in these institutions never fails to impress and inspire. Each visit reinforces to me my belief that education and impactful research are the critical cogs in a society aiming to improve and move forward. Conversely, I always seem to come back to earth with a bump the day after upon opening a newspaper and reading about the latest Trump outburst, celebrity scandal or corporate misdeed. Still – with people like those I routinely meet at our business schools helping to shape the future of business and society, I can't help but feel hopeful. Here's to more knowledge sharing, increased openness and excellent Korean food. Contact us to discuss how we can showcase the enthusiasm, insight and talent of your institution.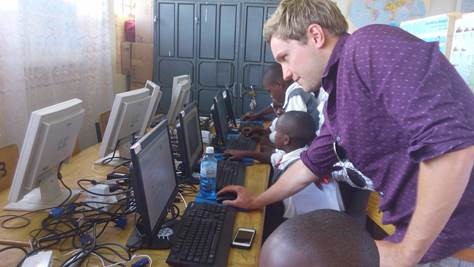 From the US Military to the MBA, to business school students' fears about Brexit, and lessons from Chilecon Valley, we spoke to some fascinating students in 2016. Some of the fantastic people studying at the schools and universities we've worked with this year Charity Founder Inspiring PhD student from the University of Edinburgh Business School, James Turing, set up a charity to send computers to African villages – all in the name of his great-uncle, Alan Turing, the father of modern computing.
The BusinessWeek MBA rankings came out last week to the usual hubbub about what they mean, how accurate they are and what their limitations may be. This year commentators were talking about how BusinessWeek had changed their methodology – and how this had led to some surprising results. Chief amongst these being Harvard's relegation from second place two years ago to eighth this - the first time the venerable Cambridge institution had dropped out of the top five.