Video content has become ever so popular these days, and it's no surprise! It is an easy to digest format, that often gives our eyes a break from the overwhelming amount of text we look at all day long.
It is a versatile and engaging form of content, that not only gives us a real-life picture of what's going on, but it is also very easy to share across multiple platforms – and allows organisations to keep up with ever changing trends.
This is because it allows you to be concise and capture viewers' interest in the first few seconds. Video content gives you the ability to condense information down into easily digestible snippets of content that is long enough to maintain viewers' attention but short enough to leave them wanting more.
We can say with almost certainty that the COVID-19 pandemic has accelerated the use of video content. We've seen institutions and organisations now dedicate more time to create fun, engaging, and informative video content – which allows them to make a connection to their audience, and drive business.
Evidence of this has been proven in this year's Hubspot State of Marketing report which found that 2020 was an impressive year for video with media uploads increasing by 80 percent compared to last year – this peaked on April 22nd 2020 with 103,603 videos being uploaded.
The report did add that video uploads began to slow down in the following months (May-August), however, the overall number of uploads is still 88 percent higher than before the pandemic.
But are people watching them? According to the report, yes! I know from personal experience that the pandemic has impacted the amount of time I spend watching videos (I have TikTok to thank for that) and it is the same for many others.
The number of minutes watched increased by 85 percent in 2020, people watched a total of 12.2 billion minutes of video last year - that is the equivalent of 23,111 years!
Why is video content important?
So, we know that the amount of video content has increased, but why should organisations be using it?
Firstly, it helps your institution to reach new audiences. Social media often prioritises video content over everything else, the way the algorithms work is that they push video content to more people, who then in turn retweet or share on their profiles – allowing you to reach more people outside of your existing followers.
It offers the opportunity to tell a story – video can be personal, and allows your audience to get to know you, your institution, and what you do – in the case of higher education, it can showcase to prospective students what campus life is like, and what to expect from their lectures, or even give them the opportunity to know who is teaching them!
It has impressive ROI! Almost everyone has a smartphone these days, and the video quality is impressive, making it easier than ever to create videos (and very cheap too). According to another report by Hubspot, 88% of video marketers reported a positive ROI from video marketing campaigns. This is a marked increase from five years ago, where only a third of marketers achieved a successful ROI.
Videos provide great insights – it allows you to keep track of your social media campaigns by checking each video and ensuring that they are, firstly reaching the right target audience, and secondly that they are being engaged with.
Now that we know why you should be using video content, you should focus on what to post.
What kind of videos should you post?
You can post whatever will help reach your goals! Perhaps that's to support student recruitment or raise awareness of a particular scholarship. Here at BlueSky Education, we post talking head videos, coverage videos, and webinar clips; we even add animations to images as they can be successful as videos too!
What you need to keep in mind though is the length of them, which depends on the platform you're posting on. For Twitter, short videos are recommended – usually between 30-40 seconds maximum; on Instagram you have more leeway with reels, which are usually about a minute long. LinkedIn and Facebook, however, are good for longer form videos – between one to three minutes at the most.
Here's an example video I made on top tips for writing a press release:
What should we do next?
According to the Hubspot report, we should start embracing live – across all social media platforms. They believe that soon enough, these will become a default for PRs and marketers. Now this may sound dauting as not everyone is comfortable on camera, let alone doing a live, but according to Hubspot "marketers will need to keep up with best practices and industry standards in this space," and that includes doing regular lives.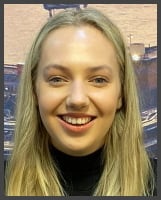 Author: Katie Hurley