The Covid-19 pandemic has required the global population to make drastic changes to their day-to-day lives, remaining distant from friends and family while working and studying remotely.
As well as this, Covid-19 has led to many events migrating to virtual platforms in order to maintain audiences and retain brand visibility – provoking a lot of adaptation in a short space of time. For business schools, many have taken the decision to move their events online, and indeed transform these occasions in order to suit a remote audience.
Turning a physical event into a virtual event is a challenge – with timings and expectations aligned to a 'normal' physical event, the transition to virtual means adjusting agendas to a huge extent, as well as making sure the delivery of the event can still be a success despite it now taking place on computer screens.
From an audience perspective, attendance purpose is different online. It is thought that people are more focused during an online event without the distractions of other people around them. This puts an even bigger focus on maintaining engagement through strong moderation, providing high quality content, and still including audience participation within the agenda.
For business schools, the show must go on
As well as face-to-face classes and programmes being moved online, so are business school events – and with great success. ESCP Business School took to the challenge of adapting to this new way of life and transformed one its annual events as a direct result of the coronavirus pandemic.
Students from the business school were brought together to work with renowned L'Oréal professionals on the company's annual 'Big Picture' project. Given the nature of the in-person project, ESCP and L'Oréal could have called off the event. However, rather than cancel the project altogether, organizers made the strategic decision to take the learning experience online, using 'L'Oréal Teams'.
Arguably, the event was an even greater success, as students practiced their 'new normal' – working remotely and collaboratively under time constraints. Working across time zones, students attended virtually from Asia, North and South America, the Middle East, Africa and Europe, bringing a new sense of internationalisation to a previously face-to-face occasion.
A virtually involved audience is possible
Originally supposed to be an on-campus event around the topic of sustainability, Imperial Collage Business School also recently moved one of their events online using the platform Zoom. With six panels of experts virtually present, speakers spoke about sustainable business and how sustainability can be included into the foundations of business school teaching and ethics.
Although initially this could have meant that audience participation would be limited, this event defied those concerns as it was streamed on YouTube live, where people could ask questions to the panelists in the comments section –an adaptive yet highly effective way in ensuring your virtual attendees can still be as involved as they would have been in person.
Hosting events still matters even when virtual
Last but not least, Poets and Quants recently hosted their 'Centre Court' MBA admissions event online. The virtual event offered four days of panels, interviews and the opportunity to interact with top business schools. As well as this, participants were also given the opportunity to join small group chat rooms to interact with staff and to get specific questions answered.
By allowing participants to join virtual interactive sessions with admissions directors, career services staff, and hear from Deans and alumni of top MBA programmes, it was certainly still as intimate for the partaker as it would have been in if they were to physically attend.
As mentioned above, moderation of virtual events is also essential to their success. The 'Centre Court' event was hosted by Editor-in-Chief of Poets and Quants and creator of the world's first MBA ranking, John A. Byrne, and bestselling MBA author and columnist for Forbes, BBC, The Economist, Matt Symonds. Their dynamic hosting and combined business school experience enabled this virtual event to be a huge accomplishment despite the change in circumstances.
The future is uncertain, and for now no one is sure as to when we will all be able to gather together in person again. Humans are social beings, and there is no denying the fact that face-to-face interaction is important to us when networking and conversing at events. However, for now, we must continue to work and communicate remotely, and business school events will not be put on hold because of that.
The business school events continuing to take place are paving the way for a new era of virtual occasions, proving to us that physical isolation does not mean we cannot continue to be educated, connect with each other, and make the absolute best of an unprecedented situation using the technology that we have in the safety of our homes.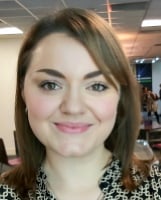 Author: Olivia Nieberg