Has your institution tried using Instagram Reels?
In this blog, we will:
What's Instagram Reels?
Instagram Reels is an app feature that allows you to create short, engaging videos on the platform. You can record and edit videos with audio, text, stickers, and special effects, then share them to your grid, Stories, Explore Feed, and the Reels tab on your profile. Reels can range from three to 90 seconds in length and are always in portrait mode (however all videos under 15 minutes uploaded to Instagram are now shared as Reels). They are mobile-only which means they can only be uploaded via mobile devices and not desktop (although they can be scheduled using social media scheduling tools). They can be filmed in one take or you can stitch together multiple clips. Reels has often taken centre stage in Instagram as the platform looks to nudge users into browsing and sharing video content.
Why did Instagram launch Reels?
According to Instagram, Reels is a "a new way for anyone — people, creators, and businesses — to create and discover short, entertaining videos on Instagram." Reels offer a more immersive and entertaining way to watch and create video, now bringing a full-screen experience to video posts to create one simplified experience. While Instagram haven't acknowledged the success of TikTok as a reason for launching Reels, it is likely a strategic move from the company to stay relevant and keep users producing short-form videos rather than losing them to a rival growing platform.
Instagram Reels vs. TikTok
As Instagram Reels and TikTok are direct competitors, it is important to look at what makes them similar and what makes them different. They both allow users to produce and share creative short-form videos with one another. However, Instagram Reels is within the wider Instagram app whereas TikTok is its own platform entirely. Secondly, TikToks can be from one second to three minutes long whereas Reels are three to 90 seconds. Finally, TikTok is arguably more creative than Instagram Reels as it has more options like trending filters and voice effects.
How can your institution use Instagram Reels?
Share educational videos including your professors
If you currently produce videos which offer long extensive research videos featuring your professors, think about how you could recreate these in a more simplified creative way that fits within the limit for Reels. For example, you could break down an interesting research video into five key points which help attract your audience as people like short-form videos that teach them something new.
Showcase your schools culture / Share campus tours
Potential students love snooping on an institution's social media as they find content that can't be found on the official website! These students want to know what the campus really looks like, any activities that take place there, accommodation tours, all about your business school classrooms and facilities, interesting stories about your school's history, and what makes your school stand out from the rest! This can easily be done by producing some effective Reels.
One example: giving a short, yet informative, campus tour. Get your students involved! Your social media savvy students will love helping you create content (especially if it involves trends) - by getting your students involved you can create so much more content, and not take up so much of your own time, as they will love taking over.
Highlight student and alumni stories
Is there any better way to showcase the benefits of your institution than by telling real stories? Reach out to past graduates and current students and ask them if they would like to share their stories. For example, you could ask them to film snippets of their job with audio explaining their journey from business school to flourishing career. You could ask current students to share their on-campus or study-from-home experiences in the same style. This will attract students as they will want to hear about students and graduates' experiences and relate to them. Potential students genuinely want to know the nitty gritty about university life and how life on your campus "actually is".
Would you like more support to showcase your business school? Get in touch today.
---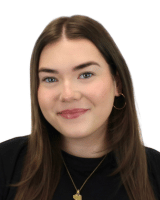 Author: Megan-rose Vince