As an academic at a university or business school, you may spend countless hours researching, analysing data, and writing papers. Is this effort only worthwhile if your work is promoted and distributed to the audience to who it is aimed at? I imagine you'd answer yes to this. Well, social media is an amazing way for academics to publicise their research, the media coverage it gets, and engage with people beyond their institutions and peers.
However, not all social media platforms are equal! Twitter and Facebook have simplistic text-driven appeal for many people. But as social media becomes more visual and competitive, there is an increasing preference for video-based content. The result of this has seen platforms like TikTok and YouTube experience immense growth.
In this blog, we'll focus on two social media platforms, one from each of these categories; Twitter and TikTok. Twitter is a brilliant way to grab attention with a short snappy introduction, including direct links to your research and the online media coverage it receives. TikTok is becoming more and more popular and often attracts a younger, fresh perspective on research. However, I personally don't think TikTok is absolutely necessary, especially if you don't get it right, and some institutions and academics can't commit to the time to film and edit good content, so don't be concerned if you start by using other platforms such as Facebook, Instagram, LinkedIn and YouTube as they are also great ways to share your research findings.
Twitter
This popular platform is a great way to quickly share, in 280 characters or less, updates on your research, publications and links to blog posts, presentations, media coverage and more. We'd recommend that you post content several times a week to maintain consistency, including links to other research, conferences and events. Make sure to respond as quickly as you can to any direct messages and comments that are made on your profile too, this will keep your followers engaged and interested to learn more. Retweet and promote other members of your research community, which will raise your own profile as well. Get involved! Always include a picture or a link if you can, as that's often more likely to be shared and retweeted than just plain text.
Here are some examples:
TikTok
Is TikTok changing the way academics can promote their research?
TikTok is a platform that has quickly gained popularity with a younger audience. As a researcher, or if you are responsible for sharing research online, and are contemplating using TikTok, you should first answer the question: "Who is my intended audience, and where can I find them?" If you answered somewhere between "13 to 29-year-olds", which compromises over half of all TikTok users, then it is definitely a social media platform worth considering. But this isn't the only option, especially for research, it truly depends how much time you have on your hands.
Here are the benefits of using TikTok to promote academic research
There are many advantages to using TikTok as an academic to promote your research. Its short-form video format is perfect for sharing educational and informative content. It also allows for collaboration and increased visibility and engagement as you can now 'stitch' or 'duet' videos to share your thoughts with other videos. Finally, you will receive rapid feedback – whether you ask for it or not! This is a great tool to keep in mind especially if you need a response from your audience for a piece of research.
Here are 5 tips on how you can use TikTok to promote your research
Use your imagination
On TikTok it is easy for users to scroll past your content, so for your work to stand out and capture the attention of your audience, don't be afraid to experiment and use your creativity with various video formats and styles. In the beginning, you will want to explore ways to grab your audience's attention while they build trust and interest in you as a content creator. Remember to try and include synergy to develop a consistent style across your videos and, if you're part of the internal team, you may wish to use your institution's brand colours/school logo to ensure you are recognisable.



Make it simple and to the point


TikTok videos are normally no more than 60 seconds, so it's important to keep your information clear and brief. For your research to have an impact on a wide audience, it has to be easy to understand.


Make use of popular 'sounds'
TikTok offers a variety of challenges and trends - using trending sounds can help your video get in front of more people. To enhance engagement, try incorporating popular sounds into your regular content.


Collaborate with other academics
TikTok can be a fantastic forum for academic collaboration – even though it might all seem a bit alien at first. Consider making contact with other academics in your discipline and work together on content, cross-promotion, and being mutually supportive of each other's work.


Be educational and entertaining
Since TikTok is mostly used for fun, academics and researchers can fill an important gap in typical TikTok content and that is to offer educational or evidence-informed driven material.
Here are some examples:
To read more into different social media platforms individually and how your institution can effectively use them, visit our blogs below:
Is it time for your institution to get on the TikTok bandwagon?
Instagram Reels: What business school marketers need to know
How to increase your business school's LinkedIn followers
---
---
---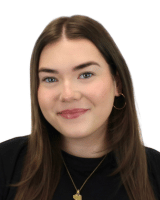 Author: Megan-rose Vince
With an eye for style and always keeping impact in mind, Megan is dedicated to delivering consistently interesting content that influences audiences, demonstrating growth in both engagement and follower numbers across different key platforms and networks. Beyond creating gripping content, Megan regularly produces key insights into how business schools and universities could, and should, be using social media as a marketing tool.