Photos are a really important part of every media opportunity. There are very few articles, press releases, or comment pieces that I have worked on that haven't required a photo upon publication.
Why are they so important? Photos are there to enhance a news story, as stories can be communicated through pictures as well as words. That being said, not all stories will be ideal for pictures but, for the most part, at least one image will accompany any article.
Pictures can sometimes tell the story just by themselves, with a caption to say who the people are and where the event is taking place. At other times, the picture may go with a story to work as a team with the words. In either case, a news picture must always leave the reader knowing more than they did before. It must add to the article.
Not forgetting the fact that they also brighten up a page. Many readers will go online to read a news story and, if all they see is text, they might be put off aesthetically. This is definitely something you wish to avoid as any article, comment piece and press release you work on is well researched and well written. A news story needs to be laid out correctly in order to make it more accessible, and pictures are key to this.
A photo can also allow a reader to know who you, as the writer, are. Providing a headshot, which often is necessary when writing an op-ed, makes the article feel more trustworthy as readers can put a face to the author.
For some opportunities, usually with the Financial Times or national publications, they send photographers out to do a photoshoot but for many other publications this is not the case and we need to provide them with a photo to accompany the article.
Yet in COVID times where most people are working remotely, having a professional headshot is not as easy to do and most people are either sticking with their old ones, or taking a new one themselves.
However, taking a professional looking headshot yourself is easier said than done. So how can you take a good headshot?
1. Think about what you are wearing
What you wear in a headshot is very important, you should wear an outfit that you would wear every day to work, or if your office has a casual dress code, wear something that you would wear to important client or business meetings.
Most professional photographers would tell you to avoid bold colours and patterns for shirts and blouses as the pixels in the high-resolution images can make these colours/patterns appear distorted. Darker colours are a better option as they will draw more attention to your face.
2. Pick a good location and lighting
When choosing the background for your photo, make sure you go for a clear and simple background, whether that's a white wall or outside with clear blue sky. You want to avoid any form of clutter as this makes it appear less professional, you wouldn't see a professional headshot with clothes and books lying around.
Lighting is also key; the most ideal form of lighting is natural lighting so a photo outside would work perfectly. However, the weather is not always reliable (at least not in England anyway), so indoors will work, you just need to avoid office lighting because most fluorescent bulbs create a green cast and shadows that are not flattering. Add to that, most offices are too dark which will produce grainy images without a flash. (You'll want to avoid using a flash because it causes red-eye and can wash out your face.)
3. Use angles
Angles are everything in a photo, so when taking a headshot, make sure you are standing up straight with your shoulders back and chin lifted up towards the camera.
You can make it look even better by turning your upper body slightly at a diagonal while keeping your head turned toward the camera. This posture creates a nice angled body image and avoids the wide squared-off look. You can keep your hands down at your side or take a few with your arms folded across your chest. If you feel more comfortable, place one hand in your pocket.
4. Don't rush it
Taking photos of themselves can be some people's worst nightmare, and they would rather just take one photo and be done with it, but to get the best headshot you should not rush it. Take the time to try out different angles, lighting, and facial expressions.
So, photos are extremely important for any media opportunity you take part in. I'd recommend taking the time to create some headshots so you have a few ready to go at short notice if necessary.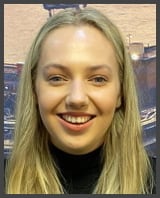 Author: Katie Hurley