2020 was a strange year. Nobody could have predicted in early January what the world would look like post-March, as staying indoors, not hugging your friends and wearing face masks became normal. The turbulence and uncertainty has been a nightmare for organised public relations and marketing experts, who'd likely planned their strategy and activities for the year ahead.
Though, the best public relations experts are the ones that can adapt to uncontrollable external situations that impact their organisation. And that is certainly a skill many have had to utilise during the Covid-19 pandemic.
Afterall, despite being encouraged during the pandemic to stay two-metres apart from one another and become less social in some ways, this doesn't mean in the context of social media, where screen time average has drastically increased, and news website views have too. This offers a viable space for public relations experts to work within.
How to succeed in public relations during a pandemic - be informative, humanistic, valuable and quirky – tips from industry
There have been a number of interesting and effective PR efforts during the Covid-19 pandemic that have really shown the creativity of PR executives in a time of crisis, and shown that a big budget is not needed to shine a light on a brand, just some creative thinking. These successful campaigns have shown us what is needed in public relations outreach, and key messaging, to ensure that image of a brand stays positive and impactful at a time of crisis. Many universities and business schools could learn from these examples.
Tie into topical, societal issues
As is often the case, public relations can be tied into wider trends to get noticed. But with not much going on in the world, and Covid-19 dominating the news cycle for the most part of the pandemic, it can become difficult to get noticed when talking about much else. However, as we came out of the Covid-19 strict lockdown in mid-May, other topics began emerging in the news cycle, including the Black Lives Matter movement. Nike tied a public relations campaign into this world-wide movement for greater racial equality, releasing this viral ad called "You Can't Stop Us," featuring a split screen stitching together footage of Black, White, Asian and Muslim athletes, which gathered over 20 million views and has been widely praised and acclaimed.
Universities and business schools should look to tie their content and public relations efforts into global societal issues, showcasing how they themselves are tackling them, and how they plan to continue doing so. This not only ties the institution into the wider news agenda, but showcases the impact they are having in a positive light.
Be considerate and show solidarity
At a time of crisis, in a pandemic that has affected millions of people globally, whether it's through the loss of a loved one, financial cost or the loss of employment, it is important to be empathetic and considerate in your approach to public relations and marketing. Humour should be used wisely and minimally, and PR should focus more on bringing people together, solving problems and helping others out. One example, is the solidarity shown with the NHS by Leyton Orient football club, whose shirt sponsor for the 2020/21 season will be local NHS trusts, with 10% of sales going to the charity.
Universities and business schools must look to be understanding and considerate in their content – for instance, now may not be a great time to be promoting executives getting top jobs, whilst many lose theirs. Why not test out your comms on a focus group to ensure that you are being considerate at all times? You don't want to come across as ignorant or disingenuous.
Be informative and offer insight and value
With a huge amount of disinformation being spread across both news outlets and social media right now, it is vitally important that content in public relations is informative, and offers insight and value to its target audience. If it does, the audience will be glad they viewed content, feeling enlightened and that it added value. A great example of a public relations campaign which did this recently, was that of Ben & Jerrys, and their informative and emotive Twitter thread on the refugee crisis – which has appeared in the news due to the government's stance on refugees entering the country.
Universities and business schools are in a fantastic situation in that they have world-leading global experts at their disposable to utilise for informative and valuable insight – they should utilise these professors in order to produce insightful opinion pieces on current news trends to both engage the public, but also be seen as an authoritative figure on the topic.
Be quirky and innovative
In order to be engaging in a crowded market, it's incredibly important to be quirky and be innovative. That way, you'll be able to get noticed amongst other brands and really showcase your key messages in an eye-catching way. One example of this, is the innovative advertising campaign of Netflix, who decided to attempt to keep everyone indoors during the covid-19 pandemic by posting spoilers of popular TV shows on their network on billboards – this grabbed a huge amount of attention when these were posted on social media by users.
Universities and business schools must be creative and innovative in their marketing and PR – like these examples have shown. There are thousands of other institutions in the same boat, and they need to stand out by being quirky in their promotions and the way they convey their key messages.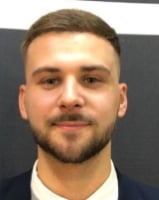 Author: Peter Remon