2020 has been the year of the expert, and this is because the global pandemic has increased the media and the public's desire for academic and expert opinion to make sense of an unprecedented situation. As the world collectively comes to terms with the magnitude of Covid-19's impact on all aspects of society, we all need something we can rely on – expert opinion and insight.
From a business school perspective, this is where they can thrive. Academic comment from business school professors and faculty can demonstrate the value of the school's expertise. This can help to attract applicants to their institution, whether that's high-profile academics applying for a role or students joining their courses. Also, for the readers, it shines an excellent light on the business school as a whole.
Journalists at the moment are extremely eager for experts to provide comment, to interview, and to write pieces for their publications in order to shed light on society's future uncertainties. The impending effects the COVID-19 pandemic will have on various sectors such as the economy, travel and tourism, oil prices, and business school applications is currently unknown, and an expert's opinion and research can provide much needed clarification for professionals, students, and the general public.
Experts can offer predictions for the future
As mentioned above, professors can provide excellent insight into the current state of the world, using their experience and research to offer predictions on the impact Covid-19 will have on society, both in the long term and short term. An example of this is when Professor Nicolas Béfort from NEOMA Business School shared his thoughts on 'predictions for a new post coronavirus world' with the publication Open Access Government – a widely read digital publication about national and local government issues. As a professor and member of the Chair of Industrial Bioeconomy, Nicolas was able to share three scenarios predicting the impact Covid-19 may have on supply chain, the economy, and sustainable business. This expertise was invaluable for those who work within these sectors, but also for the wider public who may be interested in these areas.
Technological insights have been needed more than ever
The workplace as we knew it changed overnight with the outbreak of Covid-19. With most offices having to shut and employees having to work remotely for the first time, we became increasingly reliant on technology in order to function and connect with each other. More specifically, some focus turned to how artificial intelligence can be used to assist organisations during the pandemic. Dr Terence Tse, associate professor of finance at ESCP Business School, was able to share his much-needed expertise on this with Raconteur and The Sunday Times. Raconteur is a very well respected and popular news outlet, and produces special reports for The Times and The Sunday Times. Specializing in producing content for business leaders across print, web and video, this outlet is a fantastic place to showcase expertise. In this article, Dr Terence Tse was able to highlight how COVID-19 is having serious implications for businesses across the globe, and how AI solutions could help them adapt to the 'new normal'. Technological insights such as this from an expert like Dr Tse instilled much needed confidence and guidance for firms adapting to rapid change.
As campuses closed prospective students had questions regarding MBA courses
Prospective MBA students have faced a lot of doubt and concerns as to whether it was still the right time to apply for an MBA during the pandemic. As campuses all over the world shut physically and all teaching went online almost immediately as soon as Covid-19 hit, a lot of questions arose for those who were planning to begin their MBA journey. As a result, business education journalists were very keen to receive insight and advice from admissions experts from business schools in order to reassure and advise those who were uncertain. In Milan, one of the first places in Europe to be locked down, Greta Maiocchi, chief customers management officer and former head of the MBA division at MIP Politecnico di Milano, told the Financial Times that the only thing the school could do was to still give people the time to make the decision that is right for them, despite the pandemic. She went on to reassure prospective students that the school would be flexible for individual needs, offering their programmes online if need be. These direct insights from an admissions expert were incredibly appreciated during a time when business schools shut their physical doors to their current and prospective students.
The coronavirus is something nobody could have predicted, and it has certainly been a distressing and uncertain time collectively across the globe. However, despite this, it has brought about encouraging amounts of productivity within certain sectors as various groups and individuals attempt to make sense of this unprecedented time. We have needed experts more than ever, and this pandemic has highlighted the necessity for academic input and professional insight from business schools and their communities to a great extent, and this will most likely continue as we unfold the effects of this virus on society for years to come.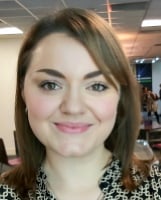 Author: Olivia Nieberg