It's no secret that the public relations industry has a challenge when it comes to communicating how it directly impacts the bottom-line. But what if you, the client, could maximise your return from the work your PR agency does for you?
So, to help you out, I have shared my top tips
Real world Impact
As part of our work as PR professionals, we write press releases and handle media enquiries, understand their respective research focuses, construct and refine editorial ideas and proactively source media opportunities with well-respected press.
Our efforts with the research into radicalisation including dedicated pitching to targeted journalists and a specially-crafted press release designed to garner further interest.
One highlight was securing an opinion article in euronews, which is a multilingual television channel and current affairs website in partnership with NBC, and the platform has an audience of over 400 million. This allowed the researcher, Asya Metodieva, to dig into her work and discuss publicly the motivators behind why individuals are mobilised to join foreign conflicts to an enormous audience.
But the culmination of our work actually led to the UN Security Council Counter-Terrorism Committee Executive Directorate making contact with us. The Political Affairs Officer who works in the Political Analysis and Research Unit where they identify and observe issues, trends and developments related to terrorism and counter-terrorism is now in conversation with Asya to help advise the UN on terrorism.
Another key example of a real-world impact was some work we did with a professor from the UCL School of Management. His research into pipeline loans for banks promoted the US Government Accountability Office who advice congress to get in touch.
They are often called the "congressional watchdog," and they examine how taxpayer dollars are spent and provides Congress and federal agencies with objective, reliable information to help the government save money and work more efficiently. They have a direct impact on the laws in the US, and they wanted the professor's insights to publish on their website and to advice congress. As you can see it helped the professor make a real- world impact through his research.
Share coverage on social media
The first and maybe most obvious thing is to share your coverage and real-world examples on social media. Below I have listed the top four social media platforms for utilising PR and how you can use them effectively.
Facebook – Leverage Facebook capabilities such as groups, mentions, call to action buttons for donations and pledging, and other Facebook Professional Services and tools to assist in PR activities and to share coverage.
Twitter – With its 140-character limit, it is the best way to send a quick link to any interesting articles or interviews that you have or to provide any kind of update.
LinkedIn – This is another great way to connect with people (especially journalists), gain industry insight and circulate relevant information. It is also a great tool to utilize for blogging and to connect with key alumni or perspective students.
Instagram – This platform is a great way to engage with the audience. Visuals are excellent for showcasing worthy causes and bringing awareness to serious issues, that your PR coverage highlights. In addition, Instagram is great for promoting events (before, during and after) to keep the audience engaged and feeling as if they are a part of the event, even if they are not.
As well as sharing on social media, make sure you're savvy with how you use it with these top tips.
Use relevant hash tags
Including hashtags which are relevant to the articles subject area in your post will gain greater exposure within its specific targeted audience. Adding these hashtags will make your content more accessible to those who it is targeted at.
Encourage discussion
Posting a link to an article on your own social media account and including a call to action such as asking for thoughts and comments from other social media users will not only encourage more people to read the article.
Tag relevant people
Tagging the relevant social media accounts, such as the professor you're talking about or the news outlet which your article appears in, will directly inform them of the coverage and encourage them to both interact with it and share it. This will expose the coverage to a much larger and diverse audience, helping it to secure a wider readership.
Put examples on your website
Our client, Nazarbayev university in Kazakhstan have donated a whole page on their website to news and articles about the school. They even use the hashtag #NUgoesglobal so people can easily access their fascinating content.
Utilising these tools and will help you demonstrate the ROI we can really have.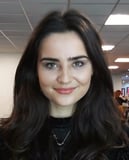 Author: Kate Mowbray