To the Gen Z community, the world of social media and online engagement is part of everyday life and has been for their entire teenage and adult years. It is something that, to a large extent, is their primary form of communicating with each other.
As a result, business schools and universities are having to become more skilled in social media marketing, adapting their online presence for generations that are more digitally savvy than ever before. To many marketeers the concept of an online ambassador or influencer is nothing new, but can educational establishments harness the power of students to create positive social media attraction and, if it's possible, how can it be done well?
The starting line
Every now and then, new social media platforms make an appearance that are particularly popular amongst teenagers and young adults. One of the latest ones has been TikTok, a platform that has been hugely successful. So the first thing to think about is how important it is for you to choose to leverage a social media platform that is widely used by students already. This way, students won't have to go out of their way and will see your content on their feed on an app they already look at every day!
Your list of social networking platforms to consider, therefore, should include TikTok, Instagram, Twitter, LinkedIn, Facebook, and possibly Pinterest.
Check out our TikTok blog to see how to use it effectively and how it can benefit your institution.
Students want to see student content
Your students should be a large part of the social media content that you produce. They are a great way to show what your institution is REALLY like. They can share some of the activities that go on during a typical day – whether that's on campus or even in the city (if that's where you're located) and local area – in a creative and entertaining manner. Using other students makes your content relatable. Other students will enjoy hearing from someone similar to them. Content from students also tends to be more raw and authentic as it will be filmed by them rather than being overly polished. This should help attract potential students as they can see all of the ins and outs of what your institution is like on a day-to-day basis.
Takeovers: don't be afraid to let go a little
The concept of a student social media takeover can make staff wary as it can be seen to be detrimental to an institution's image if left in the wrong hands. But often the key to successful social strategies is authenticity. This relates to the prior point about including students as, if faculty are looking to appoint or create ambassadors, they could personally select and hand over an account to a core group of students for a period of time. This would ensure that content comes from the direct point of view of the students themselves. This is no different to how any brand or organisation might treat any influencer takeover, but it must be built on mutual trust and respect – choose the right people and let go of control a little.
Some great examples:
https://www.instagram.com/stories/highlights/17859261271435339/
https://www.instagram.com/stories/highlights/17951613203122718/
For the love of Reels
Instagram Reels and TikTok videos are extremely popular at the moment. They are a great way to show off your campus and institution's culture. Whilst being at sixth form myself, my friends who were planning to go to university would check a university's social media before their website! They would always be more attracted to Reel or video content as it would show a 'real' view of what the institution was really like as well as the accommodation and social activities. After all, it is much more entertaining to watch a short 30 second Reel, rather than scroll through a wordy website to find the information.
Create opportunities for students to ask questions and provide feedback via social media
If you want to keep your students engaged, give them an opportunity to do so! Social media engagement not only helps you build a relationship, it will also boost your content in social algorithms. When platforms including Facebook, Instagram and Twitter see that a large percentage of people are interacting with your content, they'll see it as interesting and relevant. Your content will then show up higher in users' feeds.
Use social media to encourage potential and current students to ask questions and to discuss answers. You can end posts with prompts like "What do you think?" or "What are you most excited for when term starts?" to encourage conversations. There are simple features on Instagram stories that allow students to directly engage with you in a matter of seconds while viewing your stories, for example, Questions, Polls, Quizzes, etc.
You should also make a point to respond to as many user comments as possible, especially if they're questions or positive stories that you can highlight. You want your current and potential students to know that you care about them and that you'll be responsive on social media. If they don't know this, they might not bother engaging with your institution at all.
Regularly promote campus events
On-campus events are where students engage and interact with one another and relevant external people, such as recruiters and inspirational guest speakers, so these give plenty of opportunities for good content to share on social media! It's very likely that potential students interested in going to your institution will already follow your social media so will see these events on your socials too!
Events you could feature include; career fairs, housing fairs, alumni events, student showcases, club meetings, student plays, concerts, sporting events, movie nights and so much more. So many events! They can be a lot for anyone to keep up with, so regular promoting on social media also gives your current students a reason to follow you carefully and stay informed. FOMO is a real thing, after all. Mention each upcoming event on your social media profiles, and make sure you add a link when you can. (On Instagram, using the stories feature to do this is a good workaround, and putting a link in your bio.)
Story example: https://www.instagram.com/stories/highlights/18058262062012157/
With many universities becoming more present on social media, it is only a matter of time before having 'student influencers' amongst a school's ranks becomes a part of everyday communications and marketing efforts. Why not make that day today?
---
---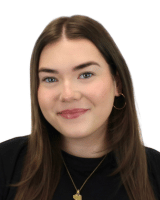 Author: Megan-rose Vince
With an eye for style and always keeping impact in mind, Megan is dedicated to delivering consistently interesting content that influences audiences, demonstrating growth in both engagement and follower numbers across different key platforms and networks. Beyond creating gripping content, Megan regularly produces key insights into how business schools and universities could, and should, be using social media as a marketing tool.