Do you often find yourself missing out when looking to attract mainstream media attention with your school's news?
Whether it's the statistics surrounding class make-up, faculty research or a particularly astute comment from the Dean on the state of modern business education, communications staff are often faced with journalists turning their institution's news down, or ignoring it entirely, regardless of how genuinely interesting it may be.
The grim reality is that the relevance, and thus the impact of the information they're sharing with the media often decreases the further it travels outside of the school's immediate community, even when these topics are ones that are routinely the subject of discussion in the likes of the Financial Times, Poets&Quants and the Times Higher Education.
It can often be hard to stand out from the crowd when every other school is seeking to do the same thing. But there is strength to be found in numbers.
Though it might sound counterintuitive, sometimes the most effective way of shining a spotlight on your institution and your faculty's expertise is by also highlighting someone else's. Far from it being a detriment to your own exposure, joining forces with others, whether directly or indirectly, can actually help to secure a better result.
The question any credible reporter will ask upon receiving your press release or your pitch is, "so what?". Alone, your school might not be able answer that question sufficiently. However, when partnered with evidence from a handful of other institutions (whether this compliments the information you're sharing or contradicts it) you can present the journalist with the foundation of a richer story – a trend, a discussion which can be stretched from the findings of just one institution to become a wider comment on the industry as a whole.
Far from diluting your message, working in this way can improve your school's exposure and reputation by confirming to journalists that your faculty have a wider, well-informed view, which extends outside of your school's campus.
We hope you found these insights helpful. If you'd like to discuss how your institution can collaborate with others, the BlueSky Education team would be happy to advise.
For the full article download Wildfire Volume 2. Issue 1.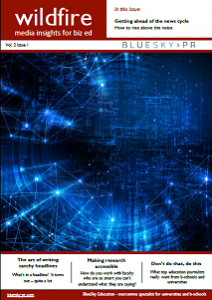 Wildfire is a publication dedicated to the university and business education community, filled with media insights and advice on how to improve the visibility and coverage of your institution, staff, and students.
In volume 2. issue 1. you will find analysis and advice from the international team at BlueSky Education for optimising your interaction with the media, including faculty opinion and research expertise. Our feature story provides insights on how and why you should be commenting on breaking news stories.