While many business schools and universities are excelling with their institutional social media accounts, often the Dean or President focuses on this success, meaning their own individual social media can sometimes be forgotten. Yet, a Dean or a President utilising their social media can be incredibly important for visibility and connection to a wider community.
A great starting place is either LinkedIn or X (formerly known as Twitter).
Both platforms have their perks - LinkedIn tends to be more long-form and professional, whereas X is often more straight to the point and informative.
Here are a few examples and tips to help you and your Dean grow their social media channels:
LinkedIn
A strong LinkedIn presence provides Deans with a platform where they can communicate directly and more personally with their various audiences, including prospective students, alumni, corporate partners, recruiters, potential employees, the media, and so many more. It also allows Deans to comment on key topics and share any articles they have featured in with a potentially large number of interested followers.
Need some more in-depth LinkedIn tips for both your Dean AND your institution? Check out our blog post here.
Here are two great examples to begin with:
This LinkedIn piece by Dr. Jordi Diaz, Dean of EADA Business School, is perfectly laid out, here's what it does well:
Started the post with a gripping quote
Majority of hashtags are at the end of the post
EADA Business School tag is used in a sentence to take up less character space
Uses a high-quality image
Tags people that have interacted and reposted
Another great example, this one from Steven McGuire, Dean at University of Sussex Business School, because it has:
Great engagement
A high-quality image
Short and informative text
X
X is also a great platform to get started. Tweets are short, snappy and get to the point - very different to LinkedIn posts. A perfect tweet includes a link, at least one tag, and a statement that is straight to the point or leaves you wanting to know more. X is a great tool for Deans to use, especially for any media coverage or key information to share.
Here are some excellent examples:
Today, it is 80 years since Finn Øien founded @HandelshoyskBI. We honour the legacy of Finn and all the other people who have helped shaped this great school. We also turn our attention to the future – and embrace the exciting opportunities to come.
Kära vänner, grattis! pic.twitter.com/0os0eFR8Tg

— Karen Spens (@spenskaren) June 1, 2023
This is a great example from Karen Spens, Dean of BI Norwegian Business School. She tags BI Norwegian Business School's Twitter account, thus gaining more reach and recognition. Most of her tweets also include high quality images and video content which draws the audience in.
This tweet by Delphine Manceau, Dean of NEOMA Business School, includes many great qualities, including a link, an image, and a tag.
Finally, this tweet by Hugh Brady, President of Imperial College London, is also a great example. It is short, snappy, easy to read, and also includes a widely shared hashtag which draws Imperial followers back to his account.
Here are some key ways to support accounts like these:
Deans resharing institutional posts
Many social media platforms offer a variety of ways to reshare someone else's post. Resharing a post boosts its visibility (even more so if they copy and post the same content directly to their account without using the reshare button on LinkedIn). Posts generally perform better from a personal account so this is a great tool to use to support institutional accounts. Those who follow a particular person might not follow the institution's LinkedIn page, so by resharing a post, more users are seeing the post. This can be very useful for Deans too, for both LinkedIn and X, whether that is perhaps a school celebration or coverage your school is particularly proud of! It's also a great way to stay active without having to find original content for the Dean's account.
Repost content from your Dean
Vice versa, it is equally as important to repost your Dean's content as this shows your school and your Dean are connected and intertwined with each other. This practice helps your Dean's content reach a wider audience, and encourages more connections to grow their visibility. Whether it's reposting a tweet or a LinkedIn post, I bet your Dean would appreciate engagement and shares!
Tag your Dean
Sounds simple, but one of the easiest ways to boost your Dean's social media presence is to tag them in your school's content. If properly tagged, their name becomes a clickable link to their profile. But be sure to only include a Dean or senior leader's tag in the post if it makes sense as they will receive notifications for all engagements on the post.
Invite your Dean to be in videos
A video featuring your Dean is as a great way to boost their visibility. Video content has become increasingly popular. Consider creating professional style videos of your Dean where they can share thought leadership content, new exciting information about your school, research and expertise, or showing their support for something they are passionate about. It's a great way to dip their toes into the social media world and remind them that their digital presence can benefit the institution.
Some don'ts to keep in mind:
Don't reshare every single post. This creates too much overlap between the Dean and the institution's accounts.


Don't share posts that have no purpose. For example, if your Dean shared a personal post about their family or something personal to them, it is not ideal to repost onto your school's page as this might not be what your students and audience want to see. Instead, they want to see and hear about exciting news, awards, upcoming events etc.


Don't use the same language or hashtags as your Dean's original post when resharing. Add something unique from the school's overall perspective.
In conclusion, raising your Dean's profile relies on a strong media presence through commenting on current news, trends, and events, and how they are impacting the school, as well as having an active and engaging presence on social media platforms. As long as your Dean is consistent, their social media will boom with the help of your school pushing them!
Want more social media tips? Download our eBook:
---
---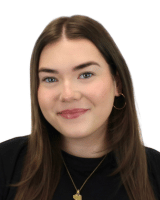 Author: Megan-rose Vince
With an eye for style and always keeping impact in mind, Megan is dedicated to delivering consistently interesting content that influences audiences, demonstrating growth in both engagement and follower numbers across different key platforms and networks. Beyond creating gripping content, Megan regularly produces key insights into how business schools and universities could, and should, be using social media as a marketing tool.