As the head of a business school or other higher education institution, a Dean is in a position of leadership with their profile inextricably linked to that of the institution – think of the Dean as the face of the school's brand, possibly even their secret weapon.
They have a number of responsibilities including building and maintaining relationships with internal staff and external stakeholders, such as donors, alumni, and the community. They are also responsible for protecting and building their school's reputation and for the recruitment of faculty.
There are a number of ways you can utilise the head of your school and raise their profile, in turn raising the profile of the school. So, in a way, here is how to make your Dean famous.
Ensure coverage in media
The Dean of the school is a sought-after source of comment and opinion from media outlets as they are essentially the top of the school's food chain, so the word of a Dean can be highly influential. A business school's goals, such as boosting student recruitment, attracting new faculty and building the school's brand, can thrive on a Dean having a meaningful presence in international and top-tier press. Consistent visibility in the likes of the Financial Times, Forbes, Poets&Quants, and other influential media for those in our industry, is a reality for those who understand this.
In difficult times, such as the COVID-19 pandemic, which is disrupting travel and education, schools need visibly strong and competent leaders. Therefore, Deans need to respond to current issues in the media. Establishing a credible presence in the press and online is vital to raising a Dean's profile and there are a number of ways to do this, including providing comment, writing articles, and being active on social media.
Acknowledge the impact of relevant news topics
Deans should take the opportunity to comment on current and relevant topics in the news, especially on how they have affected the school, students, and faculty. For example, COVID-19 has dominated the news throughout 2020 and readers want to know what changes and developments an institution is making to preserve quality higher education. This also reassures potential students and faculty that the school is taking the crisis seriously and ensuring their safety. For example, in Poets&Quants, Durham University Business School Dean Susan Hart discusses changes the school has made due to the pandemic. Poets&Quants has established a reputation for well-reported and creative stories on what matters most to the business education world, so featuring your Dean in this publication will position them in front of the readers that would want to hear from them the most.
The pandemic has also led to an increase in the need for business school expert opinion, such as the impact on economies and businesses, which the Dean could provide. This is a great way for them to feature in a number of top media outlets and raise their profile.
Fantastic examples include an Authority Magazine interview with POLIMI Graduate School of Management Dean Federico Frattini on the future of education, or comment from Andrew Burke, Dean at Trinity Business School, in Forbes on how the Irish economy has been affected by the pandemic. Authority Magazine is a great place for a Dean to feature as it is a US-based publication with a global reach, specialising in profiling successful and interesting individuals.
Comment on important trends in education
As well as acknowledging current news topics, Deans should also take time to talk about how their school is developing and advancing in line with important trends in higher education, including sustainability, technology, lifelong learning, and diversity. These are important areas in which a lot of students and faculty will look to see an institution is taking seriously and incorporating into their culture.
For example, Deans could acknowledge how their school is proactively working towards becoming more sustainable; perhaps they're increasing research in this area, producing graduates engaged in sustainable companies, or making sustainable improvements to their campus.
This sort of message will resonate with potential applicants that consider sustainability vital so a lot of readers will be interested in hearing what the Dean has to say.
Social media presence
Securing comment or an article in a prominent media outlet is not the end. To raise a Dean's profile, you must ensure these are seen and read by as many people as possible. It is also important for a leader to be visible to their wider community. A great method for disseminating content and views like this is sharing through social media, such as Twitter and LinkedIn.
A strong LinkedIn presence provides Deans with a platform where they can communicate directly and more personally with their various audiences, including prospective students, alumni, corporate partners, recruiters, potential employees, and the media, among others. It also allows Deans to comment on key topics and share any articles they have featured in with a potentially large number of interested followers.
However, meaningful social media engagement is rare amongst Deans. Research from Media Minds shows that of Deans with a presence on LinkedIn, 36% have not been active in the last 6 months and 24% have posted less than 10 posts in the last 6 months. However, an increasing number of Deans are recognising LinkedIn's potential and adopting the platform as a key communication channel. This includes Simon Mercado, Dean of ESCP Business School's London campus, and Francisco Veloso, Dean of Imperial College Business School; they are both incredibly active on LinkedIn, regularly liking, commenting, and posting original content on the platform.
In summary, raising your Dean's profile relies on a strong media presence through commenting on current news, trends, and events, and how they are impacting the school, as well as having an active and engaging presence on social media platforms, such as LinkedIn and Twitter.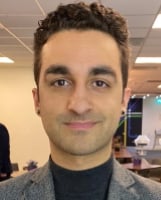 Author: Kyle Grizzell