I'm already bored of hearing about 'fake news'.
When Donald Trump became the 45th President of the United States, he brought with him a phrase that won't leave us alone – fake news – and while many of his statements are controversial or false, they generate a staggering amount of free media coverage.
Still, many of us were left thinking that the lines between fact and fiction should not be blurred for the sake of exposure.
What's more, we've seen that fake news spreads like wildfire. Social media users share in a frenzy which is further amplified if the person using Twitter is influential. Let's say, the leader of what should be the free world, for example.
Even reputable news organisations have found themselves caught up in fake news – reporting on a story before thoroughly checking its validity.
But there is something that we can do. In the world of public relations, we can ensure that any stories we use for reference are genuine, and we can look beyond the headline. A clickbait sentence might draw you in, but it isn't the whole story, we can go deeper than that.
We can also act responsibly
Our output shouldn't support the generation or spread of fake news. We can be authentic. Yes, PR is often about finding the opportune moment to join conversations, but we can decide what conversations we join, as well as what we say for ourselves and on our clients' behalf.
Here at BlueSky Education, we will continue to work with thought-leaders around the world on their ideas to better our societies. Whether that's how charities can improve their marketing, identifying the need to equalise pay for working mothers, or simply on the importance of a good night's sleep.
We'll help students to talk about their experiences in universities and business schools, educating themselves, and working towards a better future.
As PR professionals, we can make our post-truth world become a little more truthful.
Let's battle the onslaught of fake news.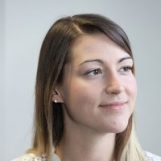 Author: Stephanie Mullins