Higher Education institutions place a lot of focus on being unique. Apart from their competitors. Something "other" than what students can access elsewhere. And, for the majority of those claims, whilst they are made in good faith, it is ultimately highly unlikely that they are entirely accurate. The chances are another institution offers something remarkably similar…
… It's rare indeed that a truly unique and innovative development in business education is created – which is perhaps why, when Imperial College Business School developed hologram technology to support their teaching capability, the world sat up and took notice.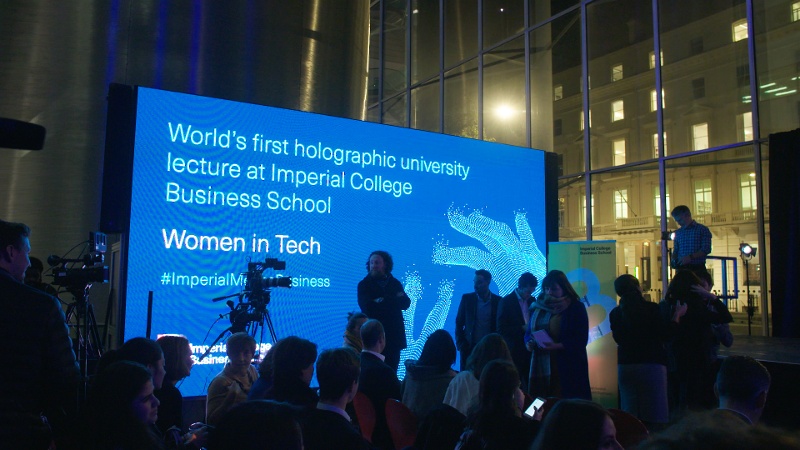 This case study shows that when you have a truly original idea, the expertise to back it up, and a robust PR strategy, the world really is your oyster.
From one press release, BlueSky Education was able to generate more than 300 press hits globally in the space of just a few weeks, secure a series of follow-up articles, interviews, and op-ed opportunities for faculty, and firmly cement the School its status as one of the most innovative, technologically savvy and forward thinking business schools in the world.
Want to find out how? Read on….
Simple comms…. Super results
Back in 2018, before the world understood the phrase "pandemic" and working from home was generally frowned upon, Imperial College Business School contacted BlueSky Education to ask for support for a project they were to embark upon.
The School's Edtech Lab had been working with a partner company AHRT Media, based in Toronto, to adapt their hologram technology for educational use. The idea was to utilise the technology to the advantage of their students, by bringing in experts for guest lectures from any corner of the globe.
Rather than simply projecting a pre-recorded message, the technology enabled faculty and guest speakers to present to students in real time, via a hologram link, from studios located in a variety of global locations. Virtual lecturers appeared in lecture theatres as 3D, life-sized entities, able to respond to audience reactions and take questions as if they were physically present in the lecture theatre.
The benefits to education? A seemingly endless list of possibilities for expert guest lectures from all around the world.
To launch the technology, Imperial College Business School planned to host an event – the world's first holographic university lecture – on the topic of women in technology. Speakers, which included Google's woman of the Year Marily Nika, the founder of TechGirlz Tracey Welson-Rossman, as well as faculty, would appear both in person and virtually.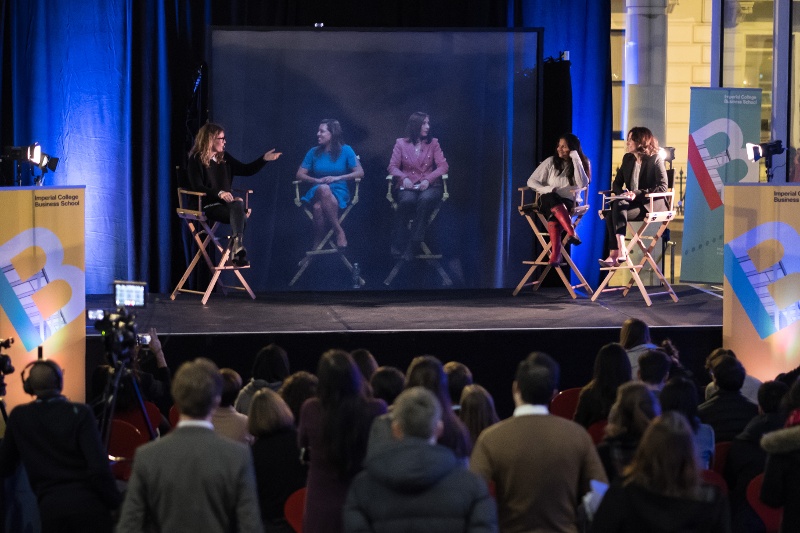 Imperial approached BlueSky Education for support in raising awareness of their technological expertise, and the opportunity available to their students through a media relations strategy.
We took two simple steps…
We wrote a Press Release
Some communications professionals will debate the value of a press release – seeing them as old-hat or a wasted effort...
While press releases may be more of an old-fashioned way of communicating, sometimes the old methods are the best. In an age when journalist's inboxes are full to bursting and their DM's are overflowing and the phone rings continually, it's not always practical to drip-feed useful news via pitches or gradual discussion. Sometimes the best help to a journalist is to make all the information on a topic directly and succinctly available to them.
Working with Imperial College Business School we first interviewed the head of the Edtech Lab, David Lefevre, to gain some expert insight – beyond the sci-fi gimmick of the technology – to truly understand why holograms would provide to be a valuable addition to the School's teaching. He told us how the technology broke down existing barriers to learning for students, widening access to education and enriching their learning experience. He also told us about the School's other innovations, including AI chatbots providing student support, robotic tutors, an online Masters in Business Analytics.
This conversation allowed us to paint a picture of Imperial College Business School as a technological pioneer. Pushing the boundaries of what was possible and designing innovative learning solutions always with the student at heart.
It also informed our own understanding as an agency – allowing us to develop a tailored list of media with whom to share the press release with.
These actions made a press release far from a wasted effort. By taking the time to understand the topic at hand and gain a compelling expert comment we were able to craft a succinct, useful text. By taking the step of developing a distribution list of journalists whose interests matched what we were offering, we were able to make sure that release was noticed, picked up, published and responded to.
How well did that go? In the first three days over 280 publications around the world picked it up, from;
Education focused press such as Times Higher Education, The National Student and QS, to
Business Education specific such as Poets&Quants, BusinessBecause, QS TopMBA
Top tier news outlets such as the BBC, the Telegraph, the Financial Times, and Forbes
Technology sector press also latched on to the story, securing us coverage in the likes of IT Pro, Tech Crunch and E&T Magazine, to name a few


We shared an invite
Often, invitations to events can strike a dull chord with journalists who are less than thrilled at the prospect of giving up their evenings. Typically there's little to be gained from attending an event in person when a summary of the proceedings or a copy of the materials are made available immediately afterwards.
On this occasion, we agreed with Imperial that, with such an unbelievable offering, the only way to fully appreciate the technology was to see it in action first-hand.
Working with Imperial we devised a list of publications and individuals to invite along to the Women in Tech event – offering the opportunity to join the audience, see the holograms in action and to then sit down and interview David Lefevre to find out more about the technology.
We also took the opportunity to sit down with David once more to ensure he was happy to speak with journalists, and offer any guidance or training.
We distributed our invitations in good time, to a select list of influential writers spanning national, regional, industrial and educational media. With this we included imagery of the hologram, and a short video displaying how it worked so that journalists could fully understand what we were offering and see the benefit of both witnessing the technology in person and understanding more about it from Imperial's resident guru.
The responses were overwhelmingly positive with journalists from the Financial Times, BBC, City AM and many others attending the event.
Following the event, in the days and weeks that followed, BlueSky received a number of requests from media to find out more about the holograms and Imperial's focus on technologically-robust education. There was also repeated requests to speak with David Lefevre, who had cemented his reputation as an Edtech expert through his thoughtful comments both in the press release and in discussion with journalists after the event.
Want to see it in action? watch the video:
And don't just take our word for it – click here to find out why Imperial work with us.
See a video of the holograms in action, from Imperial's YouTube channel: