BlueSky Education has had an incredible year! 2022 was a busy one and we are constantly evolving and growing, with over a 40% increase in clients, and so many other amazing statistics that we're keen to share with you.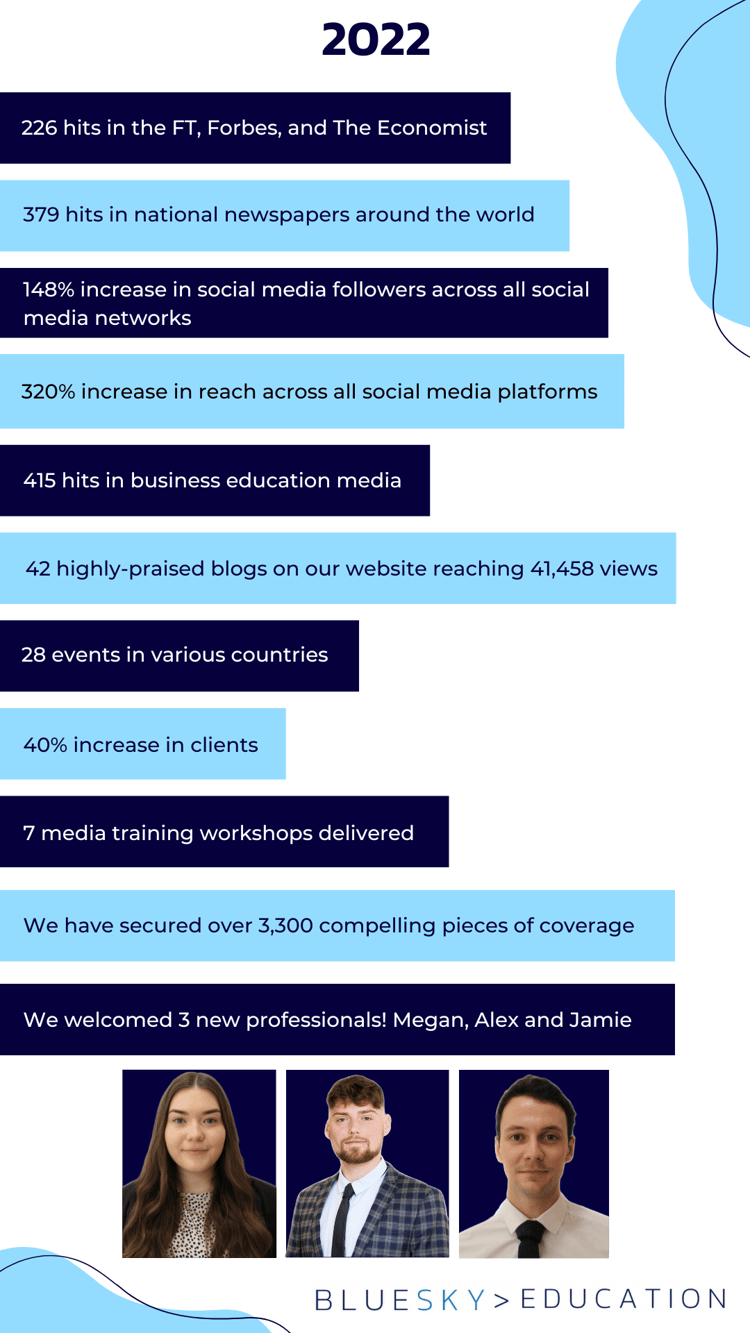 Media coverage
In terms of media coverage, at BlueSky Education, we have secured over 3,300 compelling pieces of coverage delivered for our clients in top publications all over the world in 2022. This includes 415 hits in business education media, 379 hits in national newspapers around the world (such as The Times, The Guardian, Le Monde, and so on), and 226 hits specifically in the Financial Times, Forbes, and The Economist.
Social media
Our social media has skyrocketed in 2022 with an outstanding 320% increase in reach and an overall 148% increase in social media followers across all networks! More specifically, our company's Facebook reach hit 411,606 which has increased by 546.9% in the last year. Our Facebook page visits went up by 629.7% in 2022!
In-house
Our achievements of 2022 were also reflected internally within our team. Combined, we hosted six webinars and our talented in-house writers published more than 40 highly-praised blogs on our website, bringing in readers from all over the world and receiving an incredible 41,458 views!
Our most read blogs published or updated in 2022 were:
Katie Hurley's 'The real advantages and disadvantages of public relations'
Kyle Grizzell's 'A guide to ghost-writing'
Our most read blog ever remains Kyle's 'Public Relations vs. Propaganda, Marketing, and Publicity'.
We've had an enjoyable year travelling all over the world, even attending or hosting 28 events in various countries. This includes seven media training workshops that we expertly delivered. We also had our first company meeting since 2019! The day was filled with insightful and informative sessions from our fantastic team and an incredible, jaw-dropping view from our dinner venue, the Shard, in London.
Finally, last but not least, BlueSky Education were proud to welcome three new talented professionals to the team: Megan-rose Vince, Jamie Hose and Alex Lopez! I, Megan, joined as the company's first dedicated Social Media professional, and Jamie and Alex expand our gifted team of PRs.
If you would like to find out more and enjoy a successful collaboration with us, see our social media channels below and get in touch today:
Twitter: @BlueSky_Edu
Instagram: @bluesky_edu
LinkedIn: bluesky-edu
Facebook: BlueSkyEduPR
YouTube: @BlueSky-Education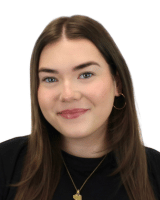 Author: Megan-rose Vince