Securing media opportunities for faculty is one of a university or business school communications professional's most important responsibilities.
Media engagement is essential to an institution's broader external relations strategy, with press coverage being integral to the maintenance and advancement of its reputation, and serving as an effective tool in supporting marketing and brand recognition efforts – particularly in otherwise untapped markets.
Turning specifically to its role as a means of getting on the radar of prospective applicants and partners overseas via international media coverage, press opportunities for travelling faculty are incredibly valuable.
As such, a communications professional must be able to capitalise when faculty or other spokespeople are on the move.
Here are a few things to consider when looking to secure meetings for your faculty abroad:
Time zones
Seemingly obvious, yet often overlooked when looking to arrange media opportunities for travelling staff, time zones are a crucial factor that must be considered.
After all, securing and arranging meetings with media for travelling faculty isn't merely a PR exercise but a logistical task too.
In looking to secure the interest of an overseas journalist, the same rules apply that you would adhere to when liaising with domestic writers – typically a pitch is best received pre-9am. Depending on the time zone of the journalist you're looking to engage with, you'll need to pitch earlier or later than you typically would to accommodate a time difference. Scheduling your pitch to be sent automatically would be wise.
And, if a face-to-face meet-up cannot be arranged, again, you need consider time zones when looking to organise a virtual meeting. Make sure you're clear on the time difference! Inadvertently sending a calendar reminder for the wrong time because you've miscalculated the time exchange is – at best – counterproductive, and – at worst – downright incompetence.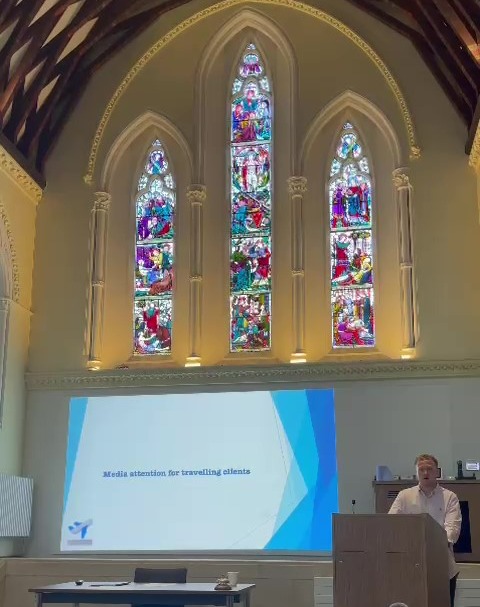 Geographical proximity
Another seemingly basic but often ignored factor at play is the geographical proximity of the travelling faculty member and the journalist you're looking to engage with.
You need to know where specifically this faculty member is travelling to within a region or country.
To be clear, where exactly your faculty member is heading to is just one of the core details you should know – you also need to be aware of: how long they're there for, what their availability is like while they're there, and why exactly they're travelling to that specific region or country.
Knowing where this spokesperson will be becomes all the more important when the destination is, geographically-speaking, massive.
Country size aside, do not overestimate the willingness of busy journalists to travel out of their way to meet your spokesperson. Knowing what city your faculty member is heading to is important – engage journalists based in that city. And consider commute times.
You want to avoid giving the journalist any reasons to not meet your faculty member, or they might just take it. Don't lose a lead because of something basic that should've been factored in like geographical proximity.
Urgency
At a glance, it's a pretty vague notion: urgency. But it's probably the most important element of the decision-making process for a journalist.
When journalists weigh up whether to meet with or hear from someone, they don't just ask themselves 'Why?', they ask 'Why now?'
In securing media opportunities for travelling faculty, you must incentivise journalists to do so there and then.
And this is why those aforementioned details – specifically, why the member of faculty is there – are so important.
Now, to be clear, the faculty member being there – as a reason alone – is not enough. Making it known as to why they're there, however, will inject a sense of timeliness and urgency.
Contingency planning
Despite having considered the time difference between the region you're in and that of the journalists you're looking to engage, as well as being mindful of the geographical proximity of your travelling faculty member and said media, and incentivising targeted writers to connect with your spokesperson while they're in the vicinity of each other, sometimes things just won't work out.
Last minute schedule changes, unforeseen commitments arising, and general unavailability can all get in the way of an in-person meet-up.
That's why contingency planning is essential.
In this digitally-intensive world, virtual meetings are an effective alternative to face-to-face ones. So, when first engaging with the media in the region, make clear the offer to connect travelling faculty and any interested writers virtually if in-person becomes unachievable.#
--
Connecting travelling faculty and overseas media can be difficult. Each party is a moving target. So, understanding basic factors at play, such as the time difference, the proximity of all involved, and the reasons for the travel in the first place (and how that can incentivise a meet-up), and then having in-place a fall-back if things go wrong, is essential in securing meetings for your faculty abroad.
If you'd like support in securing media opportunities for travelling faculty or staff, contact BlueSky Education today.
---

Author: Jonny Stone
Jonny delivers impactful PR results using an evolving network of essential media contacts, from national newspapers like Forbes, The Guardian, the Financial Times and The Telegraph, to specific trade editors such as PIE News, QS Top Universities, We Are The City and University World News. He is committed to helping more ambitious institutions reach international media goals.
Originally published July 2017, updated November 2023