How we cater to our insatiable appetite for instant information is constantly in flux, and technology is forever transforming how we consume news. The Reuters Institute Digital News Report, based on a YouGov poll of 93,000 people, provides a spread of insights into the habits, preferences, and behaviours of news consumers across different platforms and countries. As any good public relations professional will know, understanding a journalist's or publication's audience and medium is vital for cooking up that perfect pitch and getting your school into the news…
1. People opt for positive vibes
Fewer people are engaging in online news discussions, with almost half of those surveyed (47%) reporting that they do not actively participate in news-related activities, such as commenting on articles or reacting to them on social media. The report also reveals that some avoid news or allocate specific times of the day to read the news. Interestingly, 55% of those who avoid news underlined that they prefer to engage with positive stories, with an additional 46% wanting solution-based news and 39% highlighting they preferred explainers or educational news.
In this evolving context, the role of PR takes on renewed significance as people become harder for you to reach. Rather than following the beaten path, there's an opportunity for us to craft narratives that resonate with this growing appetite for meaningful content. This is the perfect moment to pause and reconsider themes that offer a respite from the everyday information overload!
PR can be an architect of narratives that cater to this shift in content consumption. It's not about being the loudest voice in the room; instead, it's about understanding the audience's desire for substance and connection.
2. Algorithms vs. editors in sceptical showdown
The report shows that some people are sceptical about how news is selected, and this can be either by journalists and editors themselves or by algorithms. Only 30% of respondents felt that algorithms selecting news based on their history was positive, which was actually slightly higher than those who liked having their news selected by a journalist and/or editor, of which 27% liked the idea.
In a world where trust in information sources is paramount, PR adds a layer of credibility to news dissemination. There couldn't be a more ideal time for us to promote your sound, reliable and trustworthy academic research! By focusing on transparent, expert sources, we can foster an environment that counters the uncertainty surrounding news selection and fosters informed decision-making.
3. The news evolution and subscription revolution
Traditional publishers are facing challenges with declining advertising revenues and rising costs. As a result, paywalls and subscriptions have been increasing for the last few years, something I'm sure we've all noticed! Recurring revenue models such as subscriptions and memberships are replacing digital brands that rely on ads. However, subscription rates have seen little growth within the last year, and cancellations have increased. Across 20 of the richer countries surveyed, about 17% of people pay for a news subscription service, which shows no increase from last year. So, while subscription services may have risen in recent years, the report indicates it has hit its peak for now.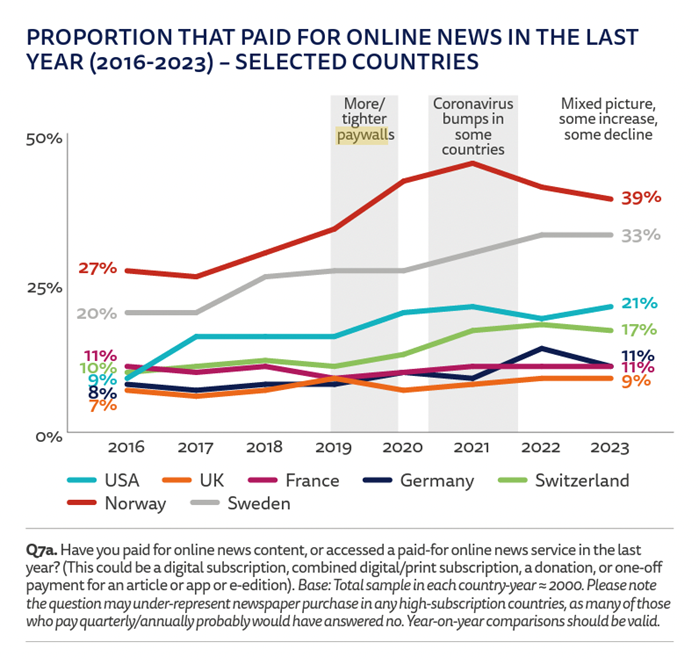 With subscription-based news models, the demand for high-quality, credible content that resonates with its subscribers, becomes paramount. By strategically aligning your school's brand or messaging with the interests of subscribers, we can enhance the likelihood of engagement and retention. In this context, PR becomes a conduit for building and maintaining positive relationships with the audience, effectively turning subscribers of a publication, into your very own.
4. Social media stars
Reading news remains popular among online users, but engagement with video news is steadily increasing. Social media is becoming a go-to source for news readers who want quick summaries of the news they are interested in, rather than first visiting websites or apps.
While it may be journalists that often lead news conversations, online influencers and personalities get attention too; content creators report in their own fashion to an engaged audience who they understand and know very well. TikTok has a reach of 44% among 18-24-year-olds globally, of which just under half use the Chinese app for their news – and this is growing.
Although Facebook remains to be the most popular social network across the board, its impact on journalism is decreasing as it shifts its attention away from traditional news. Furthermore, it is facing new competition from networks like YouTube as they continue to diversify the type of content they provide (i.e. no longer only providing long-format video, but a whole array of different types of media). Fortunately for you, we've put together a whole e-book on best social media practices for business schools!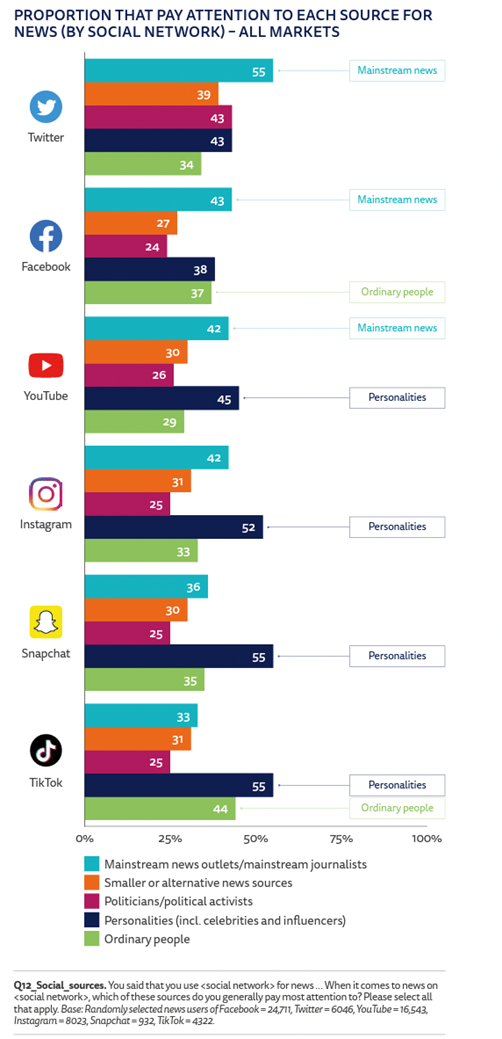 5. AI's news nudge
The report only briefly touches upon the impact of artificial intelligence, noting that it poses a potential threat by delivering personalised but potentially unreliable content. We know that generative AI is yet to become 100% accurate, but its impact on journalism has had some effect to date. For example, AI-based technologies have already been introduced in journalism, such as the personalised news site blick.ch and the 20 Minuten app that offers automatic translations in nine languages.
However, the use of truly generative AI is currently limited to only a few websites. With the emergence of ChatGPT, the report highlights that media managers and journalists expect AI to significantly transform journalism in the future into instant content that is completely tailored to the reader.
As if the news and its consumption couldn't change any quicker, AI will undoubtedly leave us with a very different report this time next year. When all news is built for the individual reader, will news avoidance be a thing of the past? Will a journalists-based news selection become more trustworthy, in the face of endless AI recommendations? And who will there be after the influencer.... Chat GPT? Regardless, understanding these trends is vital for business schools to help understand the media landscape we are all trying to navigate. Need some support? Lucky for you, we're experts in the matter! Get in touch to see how we can help.
---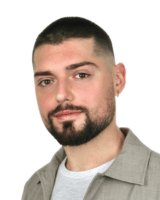 Author: Alexandre Lopez
Having studied at top institutions including Sciences Po, City University of Hong Kong, Oxford Brookes University, KIMEP University and having completed his Masters at the University of St Andrews, Alex's insider knowledge means that he genuinely understands the inner workings of universities and higher education institutions. Alex has won awards for his academic writing and is fluent in both English and French, and proficient in Spanish.