During the live recording of our podcast, BlueSky Education Thinking, Tomaso Eridani, Press Officer from Bocconi University, asked some really pertinent questions, which I think a lot of other schools are going to be wondering about at the moment. Is it time to start moving on in our communications from purely focusing on content relating to COVID-19. Is it time to start talking about other things? Is there any interest from the media for other topics?
BlueSky Education's Adrian Barrett and Stephanie Mullins discussed this in great depth with Biz Ed Guru Matt Symonds alongside other questions asked by our guests who included Magdalena Wanot from EFMD and Rob Read from Media Minds Global.
Is it time to start talking about topics other than COVID?
Many schools have been focussed for the past few months on communicating, sharing their expertise, sharing their stories with relation to the coronavirus pandemic. However, there are certain schools who have still managed to be quite strategic in what they want to be known for. There's a school in France, for example, who really wants to know for entrepreneurship so they've focused their media coverage on how entrepreneurs can cope with the current crisis. They can therefore be seen as the experts in this area and that will help to encourage any entrepreneurs and people looking to learn more about that to apply for their programmes and to look at the school a bit more closely.
Take Alliance Manchester Business School as an example. A key programme for them is the MBA and they have continued to highlight this in the media during the crisis. From student stories that show how well the school transitioned to online learning and how grateful they are that they have the strength of an MBA in the current climate, to the school's head of MBA marketing and recruitment, Chris Healy, providing excellent sector insights on whether an MBA is still worth it in 2020 in top business education specific outlet BusinessBecause.
I think that is an incredibly smart approach. It's important to have the strategic picture in mind all the time, and the longer the current situation goes on for the more opportunity there will be to talk about subjects outside or at least without a sole focus on coronavirus. We are already seeing ourselves that there are journalists wanting to write other stories. There is an appetite for the right sort of stuff, credible material that one would have put out before all this, it's a question of getting that balance and, and constantly thinking of the long-term picture rather than just the here and now.
What type of topic stands out right now?
Matt told a story during the live podcast episode about a survey of British television viewers back in the early 80s, during the conflict in in the South Atlantic, about what they remembered of the 10 O'clock news the night before. Nobody could remember anything other than the final segment that was about a duck who had learned to ride a skateboard. And that's something to think about now. We've seen this absolute blanket coverage. It's been nothing but COVID. And the viewing public are becoming desensitised to the overload of negative news. We are starting to see this need for either more positive stories, or stories that look towards the future. For universities and business schools, this could be speculation, grounded in research, on what the future of what the fashion, retail, tourism, or leisure industry will look like in six months, a year, two years or even ten years' time. It's still related to the COVID story but it's moving away from being the same story everyone is talking about.
What do you want to be talking about?
What do you want to be known for? Communication should always be working towards your goals. And those goals still exist for business schools. So, the key right now is to find a way to still be talking about those topics which further your agenda but in the context of what is happening in the world right now and how this will shape businesses and entire industries.
There are publications such as the Financial Times that were very slow to report on the early reactions to COVID within the business education sector, who then honed in and has since written about little else. But the media landscape is shifting and we are seeing more positive stories, more non-COVID stories. It's all about how to leverage that 15-20% that will continue to emerge over the next few months.
How can you break through the noise? We've seen it happen. Stories that are important, striking or controversial have made it. We even recently broke the news revealed by our client Nazarbayev University research that horse milk could be better for you than cow's milk and it made headlines across national and trade press. It's important because the institution still wants to be known for ground-breaking research and we can help achieve that goal.
Ultimately, there are opportunities for non-COVID stories – but think about the goals behind PR activities and how they can be met, with or without focusing editorial lines around coronavirus.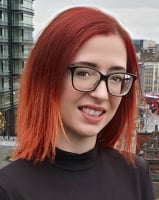 Author: Jennifer Wright