Technology is a massive topic, in the last decade it has moved from the fringes to mainstream media. This is because it has increasingly become integrated in businesses and industries so the media has had to adapt to the changing landscape. However, because tech is so popular in the media it can be very difficult to get coverage.
So, how can you?
Do your research
Technology has lots of different elements to it, therefore those who write about it often have specialisms in certain areas from VR to big data. To ensure that you succeed in getting coverage in the tech press you need to research the journalists and their publications to ensure that you are pitching relevant content to them.
But remember the goal, it always pays to be specific, so work out what your aims are, it's not enough to say you want more students at your school as you'll struggle to work out which publication is suitable for you. Your aim needs to be specific, so if you say you want more students from India, it really helps you out in choosing which publication you should target.
Follow up
Journalists are very busy people who get hundreds of emails a day so, more often than not, if you've pitched to them and they've not replied, it's because they haven't seen your email or haven't had the opportunity to get back to you. If you haven't heard back from them about a week later, don't be scared to follow up with them to check if they received the first one; according to research, 73 per cent of journalists are happy for PRs to follow-up with them. However, if you've followed up and had no response then just assume the journalist is not interested and offer it elsewhere, you don't want to be one of those PR people that bombard journalists with loads of emails. It'll only end with you being blacklisted.
Don't be too academic
Tech is a very complex subject and, if it's a piece of research, the likelihood that anyone will understand it is slim. Academic writing is filled with in-depth, complicated writing because the researcher is writing for likeminded people and doesn't need to generate interest when the people reading it are already attentive.
When writing for the press, you need to take into account the audience and what prior knowledge they have. You don't want to be patronising by dumbing it down too much, those who read tech probably have a good understanding of what you're talking about, but just make it accessible for readers. Doing this will increase the chances of a journalist picking it up.
Offer exclusives
The word exclusive can be misleading as it sounds like you're giving the story to one reporter but it actually means giving a key soundbite, news item or an interview to a single journalist with an understanding that they will be the first to run the story. After that, the story can usually be released to any media.
Offering an exclusive is a great way to persuade journalists to use your story. 76 per cent of journalists said in a survey that they are more likely to cover a story if it is offered to them as an exclusive. However, you have to be very careful, if you fail to offer a story to the media as an exclusive then you could miss out on an opportunity but if you overuse it, then you could end up getting a bad reputation with journalists.
Why should you offer an exclusive? It gives you, the PR professional, more control over the story's release. You know when it is planned to go out and can plan a full release accordingly. It may also result in a more substantial story in a top tier outlet rather than a release to dozens of media.
Stories
Journalists love stories. Here at BlueSky we think that the best way to engage with your audience is through storytelling. People love a story that educates and entertains, almost all coverage that has done well has some form of human-interest aspect to it because they have a unique and newsworthy angle to it which naturally appeals to us as an audience.
Techy alumni and student stories are perfect examples of storytelling, it's a great way to showcase schools to prospective students because it can give them a feel for what a business school is like. Real-life successes explain the realities of business school life from a third-party source.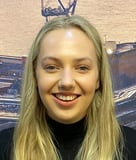 Author: Katie Hurley