We often receive queries from businesses asking how to run competitions on Facebook and what the rules are. In this blog post, I will outline the key Facebook competition rules – including one that many brands break – and share some top tips on planning a successful competition.
What are Facebook's competition rules?
To ensure your Facebook page is compliant you must adhere to the policies the platform has set out. These include:
You must only run contests that are allowed by Facebook
It's vital that you understand what types of contests and competitions are allowed on Facebook. Draws and sweepstakes where individuals only need to enter to win and winners are chosen at random are permitted. Contests where entries are judged and the winner is then chosen are also allowed. However, lotteries or raffles where someone must buy a ticket to win are prohibited.
Your competition or contest must provide clear and detailed entry conditions
When running a competition on Facebook you must outline the rules for entry, include a link to the terms and conditions and ensure that it with any other regulations related to the prize you are offering.
You must make it clear that your competition is not linked or associated with Facebook
When running a competition or promotion, you need to make it clear that it is not endorsed, sponsored or administered by Facebook, and that Facebook is in no way associated with your contest. This also means that the promotion is at your own risk and Facebook will not assist you if anything goes wrong.
Make sure you collect data in line with GDPR regulations
If your competition involves the collection of entrants' personal data, such as their name, age and contact details, you must make sure that you not only comply with GDPR regulations but also make it clear that it is you collecting the data and not Facebook.
You are not allowed to ask users to use their personal timelines or friend connections to participate
Many recruitment firms run Facebook competitions where users must 'like and share' a post or 'tag a friend' to enter. However, while it was perfectly fine to do this a number of years ago, this is actually against the platform's rules and if reported could see your Facebook page suspended. Facebook states that:
"Promotions may be administered on Pages, Groups, Events, or within apps on Facebook. Personal Timelines and friend connections must not be used to administer promotions (ex: "share on your Timeline to enter" or "share on your friend's Timeline to get additional entries", and "tag your friends in this post to enter" are not permitted)."
To break this down into simple terms, this means that it is okay to ask users to do the following actions:
Like this post
Comment on this post
Vote by liking submitted comments or images
Post on this page's timeline
Message this page
And that the following actions are prohibited:
Share this post on your timeline
Tag in a friend
Share this post on your friends' timeline to get additional entries
However, you can encourage users to tag in their friends by posting something such as "Do you know someone who would love to win this prize? Tag them in the comments below".
Tips for planning a Facebook competition
When planning a Facebook a competition it is not only vital to stick to the rules, but you should also have the following in mind to make sure that it's a success.
Set a clear objective for your competition
This will enable you to measure the success of your competition and whether it was effective in reaching a set target. For example, is the objective of your competition to increase the number of potential candidates who are following your Facebook page?
Create an engaging competition
Tie in your competition with an upcoming event for maximum impact. For example, if you're looking at hosting a Christmas contest why not create a '12 days of Christmas' themed giveaway where entrants can win a prize each day?

You should also use your personas and Facebook analytics to understand what types of content your audience engages with and what motivates them. For example, if you have identified that a large proportion of candidates are wanting to develop their skills why not offer a main prize of a free online training course with highly rated books on the latest industry trends as prizes for runners up? This approach will not only make your audience naturally want to enter but they will also be more likely to share it with other like-minded people.
Provide clear terms and conditions for entry that entrants must agree to
Traditionally companies running Facebook competitions have used the Notes for Pages feature to detail all of the terms and conditions. However, Notes has recently been discontinued which means that the simplest option to house this information is to create a custom landing page on your website or via your email marketing platform.
Make sure that if you are encouraging the use of user generated content you get permission to use it
If you are asking users to generate and submit content, such as photos or videos, as part of your competition that you have permission to use it once the competition has closed. This can be done by including it in the terms and conditions.
Use more than just Facebook to promote your competition
While your competition will be hosted on Facebook, it is important to use a range of digital marketing channels to cross-promote it. For example, you could include it in your e-newsletter and post about it on your Instagram. This will help engage a wider audience and make more people aware of your Facebook page and competition.
Follow up after the completion has closed
Make sure that you not only announce the winner on your Facebook page but you also follow up with them and any other leads you have generated from your competition.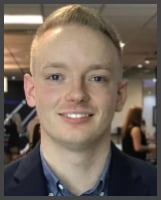 Author: Dan Stobbs