And what we can learn for 2022
We've heard the phrase 'content is king' on repeat for many years now. And it's clear that these days everyone is listening.
BUT…
When there is so much content of varying quality being produced, readers are being flooded with options.
How do you make your content stand out?
Because, let's be clear, content is still key. There is just more competition out there. Which means your content has to be better.
How do you make sure your content is better than the competition?
There are multiple factors.
I could tell you it's about how good your writing is. But what does it mean to be 'good'?
Good writing is clear, concise, easy and enjoyable to read – because we are writing for an audience not for Google these days.
Good writing shows a spark of personality and draws you in.
And when we're talking about writing designed to pull you in from the search results, good writing answers a question for your audience. It solves a problem for them. I mean, why else would they read it?
What challenges are your audience facing?
For my audience (you), recruitment marketers, the biggest challenges in 2021 were:
Generating traffic
Generating leads
Proving return on investment (ROI) for your marketing activities
(HubSpot's State of Marketing 2021 report)
So, let's look at ways to solve each of these and then consider what challenges your audience might be dealing with.
How can you generate traffic for your website?
HubSpot found that 47% of marketers list getting traffic to their website as their biggest challenge.
So, how do you go about increasing your website traffic?
By ensuring your content is search engine optimised (SEO).
I know, I know. I just said we're not writing for Google anymore (and we're not). Then I said your content has to be SEO friendly.
As far as I'm concerned there is a very big difference between writing something with a specific reader in mind and writing something using a set of guidelines and a list of words to stuff in there. In case it's not clear, it's the first option you want to be doing.
BUT
SEO comes into your research (some great tools you can use further on in this post).
SEO comes into your editing.
And your meta data is all about the SEO.
So, what do you need to optimise?
To help with your recruitment blog writing and optimisation, BlueSky PR has a checklist available that you can download but here are some of the key tips:
Optimise the length of and the key phrase used in your title tag (the version of your title displayed in search results which can be different from the title displayed on your page).
Check the competitiveness of the phrase you're targeting and make sure your content is the optimal length.
Use images and videos with relevant alt tags (search engines can't understand these without one).
Use a meta description that gives readers a reason to click through.
More detail can also be found on each of these steps in our blog post: six SEO tips to help your recruitment firm rank on Google.
How can you turn that traffic into leads?
Once you get them to your website, how do you turn them into leads?
HubSpot found that 21% of marketers said proving ROI for their marketing activities is their biggest challenge and this remains one of the biggest challenges year on year.
ROI from recruitment marketing is all about tracking the leads your marketing activities bring in (more on how to measure this in the next section).
When it comes to converting website traffic into leads, you want visitors to either:
Call you
OR
Give you their details so you can call them
So, what makes them call you?
Content, or information if you will, that is so compelling that they realise they need your expertise.
And what would make them share their contact details?
Access to gated content that solves their problem / answers their question.
What those problems / questions are, and what compels them, will depend on the industries you work with but it is sharing your expertise that drives leads.
How do you show the ROI from your marketing activities?
We all know that recruitment marketing is vital to growing a recruitment business, yet as mentioned above, it can be hard to demonstrate this.
Yes, you want to measure the number of website visitors your site is receiving (and where they are coming from) and your Google ranking to make sure your SEO is working but that isn't the ROI.
In fact, there are lots of recruitment marketing metrics that you'll want to measure to assess your recruitment marketing strategy.
BUT
The ones that count when it comes to ROI are:
The number of leads brought in (ROI from marketing)
The number of leads that convert (ROI from the combination of marketing and sales)
Whether a lead is a client or candidate will depend on your goals but each will have a financial value attached, either the value of the overall client contact or the individual client placement.
As long as you have a CRM system in place, you can 100% measure the number of leads you bring in whether it be via your website, events, social media etc. either using a specific field to track this (preferable) or by simply using the notes (definitely the longer route but better than nothing). Measuring the number of leads that come in via the phone though will require co-operation from your consultants to make sure they ask and track this.
And as long as you can track where a lead came from (and any other sources of conversion along the way) you (or your MD) can track the number of leads that convert as well.
That will give you a true picture of the return on your investment.
Those were the top challenges for recruitment marketers, so let's talk about challenges for your audience
Let's start by defining who they are.
In recruitment, these will almost always fall into two categories, clients and candidates, and, depending on what industry you're recruiting in, will probably depend on which is in most demand right now.
For the sake of argument let's say your key target right now is candidates because you're working in one of the industries suffering from staffing shortages, let's say it's hospitality (because I love food and many of my favourite restaurants are desperately short staffed right now).
Instead of going into details of why we are experiencing staff shortages (I was actually on a virtual wine tasting the other evening where the B and C words were banned), instead let's talk about how to attract the candidates you're short of.
Using Chefs as an example:
What makes them tick?
What draws them in?
What are they passionate about?
For the most part, it isn't an industry you go into for the money. There are long working hours. You do it because you love it.
The last few years have made people more practical. They choose career paths there is constant demand for. Work-life balance has become a much bigger consideration.
How do you reignite their fire?
Perhaps you could interview your clients and placed candidates (who often become clients anyway, right?) about what makes their day? Why they do what they do? Why would they never consider doing anything else?
You could write about the trends your consultants are noticing when they speak to clients - insights into any changes in the industry.
There are also tools you can use to find out what keywords and phrases people are searching for around your topic, two that we recommend are:
Answer the Public- A free tool which enables you to see the most popular search queries for topics or brands
Google Trends– This analyses the popularity of top search queries and uses graphs to compare the search volume over time across different regions
Give people what they want
At the end of the day, to solve any of these challenges, giving people what they want is the answer.
Give your audience the answer to the question they've been Googling.
Solve their problem.
Show them they can trust you.
Find out your Director's goals and measure against them.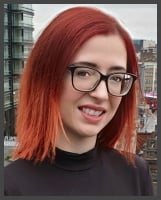 Author: Jennifer Wright