Social media dominated the marketing and communications landscape in 2017 - platforms rolled out a host of new features, the number of global social media users exceeded 3 billion for the first time and President Trump cemented his position as the world's most famous tweeter by using the platform to create a number of international incidents.
But what will this year bring? Here are my top three social media trends for 2018 that marketers should be prepared for.
Paid social will become an essential part of social media strategies
Since 2013, businesses have experienced a rapid decline in their organic Facebook reach and last year saw the average number of Facebook post engagements plummet by 20%. With Facebook committing to a new mission statement based on community building and testing out a controversial 'Explore feed', which relegates organic posts from Pages to a separate feed, 2018 is being viewed by many as the year in which organic reach disappears.
So what can you do to overcome this challenge and continue to reach your audiences? Rather than relying on a solely organic strategy you will need to invest in paid advertising. Thankfully, there are a vast array of options available beyond the well-known 'Boost' button which can be used effectively to target and retarget individuals based on their interests or actions taken online.
You should also implement paid social into your strategy sooner rather than later, as this will enable you to experiment and benefit from the initial lower costs – as the expected increase in the number of ads competing to be seen in users' newsfeeds this year will create a rise in advertising costs.
Video will continue to grow in popularity
Video continues to grow as a medium across all digital channels and with Cisco forecasting that 82% of all consumer internet traffic will be video by 2021, it is clear that this trend is much more than a passing fad.
The latter months of last year saw a number of video-related social media developments, which included LinkedIn introducing video support and Facebook launching a video creation app, and with Facebook's algorithm continuing to prioritise videos this presents marketers with a number of opportunities to engage their audiences.
So why not think about the ways in which you can use video in 2018? For example, you could host a Facebook Live or Periscope Q&A event for job-seekers which you could then repurpose into a number of different formats.
Brands will need to develop authentic content
Social media users are more savvy than ever and aren't afraid to unfollow, mute or block businesses which they perceive to be too salesy and lacking in value.
Whilst a few years ago it was common place for recruitment firms to simply use their social channels to push out jobs, expectations have now changed. Businesses need to carefully consider their content strategy and how they use their channels to grow and communicate with their audiences.
You should think about how you can make your brand sound less 'robotic' and more engaging by bringing your brand values to life through maintaining a consistent tone of voice across your online and offline channels, and producing content that adds value.
In 2018, the recruitment firms that have the most success on social media will be those that create authentic, compelling content.
To discuss social media, or any other aspect of your recruitment PR, get in touch with BlueSky PR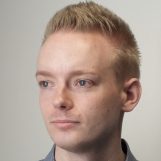 Author: Dan Stobbs