With many studies showing that you only have 10 seconds to make a good impression, it's vital that recruitment professionals establish a strong personal brand on social media if they are to continue to make placements during these difficult times.
Here's how recruiters can optimise their LinkedIn profiles and making a great first impression.
5 tips for establishing a strong personal brand and making your first impressions count
Optimise your profile photo and background photo
Make your first visual impression count by using an optimised professional photo of yourself. Too many LinkedIn users let their personal branding efforts down by uploading low-quality photos that are poorly-lit or blurry. I recommend using the image of yourself that your recruitment firm uses on its own website so that you are instantly recognisable to anyone that may have come across your profile on there and your online presence is cohesive from one channel to the next.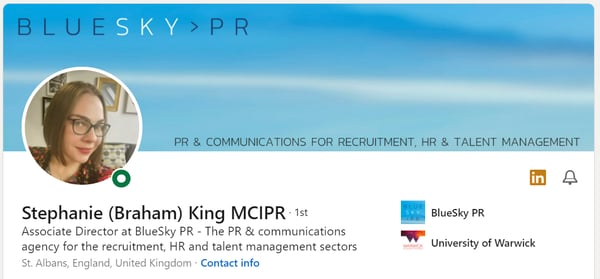 You should also ensure that you aren't using LinkedIn's default background image and have one that is fully branded and communicates what your firm or your specific division specialises in. If your recruitment firm does not have these in place, you should speak to your marketing team and ask them to produce some for your employees.
Make your headline more than just a job title
One of the most common mistakes that recruitment professionals make on LinkedIn is leaving their profile headline as the default option, which is where it displays their job title. However, to stand out among the millions of users on LinkedIn your headline should answer two questions - Who do you help and how do you help them?
This should be thought of as a mini value proposition to succinctly summarise what you do. For example, instead of having your headline as 'Senior Recruitment Consultant at XYZ Recruitment', make sure that you address those two questions and you should have a headline such as 'XYZ Recruitment – Filling Digital Marketing roles across London and the Home Counties' or 'Senior Recruitment Consultant at XYZ Recruitment – The leading recruiters for digital marketing in London and the Home Counties'.
This enables those who may be hovering over your profile in their feed to understand exactly what it is that you do and how you could help in a matter of seconds. This is also useful for helping your profile appear high in LinkedIn search results for relevant keywords.


Use a keyword-rich 'About' summary
Following on from your headline you should craft a profile summary which features relevant keywords and is no more than three paragraphs. Having looked at many recruiters LinkedIn profiles it's rather shocking how many leave this blank or have one sentence stating 'I am a recruitment consultant at [insert recruitment firm's name here]'.
Your 'About' section should reiterate what you have said in your headline and then go on to expand upon it detailing your successes so that viewers can see how effective you are, followed by a clear call to action. This is outlined below:
First paragraph:
Reiterate the mini value proposition from your headline.
Second paragraph:
Expand on this and go into more detail about your role, the projects you've taken on, results you've driven, and any clients you've worked with.
Third paragraph:
Include a clear call-to-action that communicates why and how a prospective candidate or client should get in touch with you.

For example:
I am passionate about matching highly-skilled digital marketing professionals with forward-thinking companies based in London and the surrounding areas.
During my three years here at XYZ Recruitment, I have developed closely-knit relationships with a wide range of clients from start-ups to FTSE100-listed companies. One of my proudest moments to date has been working with a tech start-up where I have helped increase the headcount of their marketing department from one to 12 people in just 18 months – placing each successful candidate.
If you are a marketing professional looking to take the next step in your career, or a business looking for a recruiter with an in-depth knowledge of the industry, please contact me anytime at 000 123456 or email me at james@xyzrecruitment.com
Add media to your profile


LinkedIn allows users to add or link to external documents, photos, sites, videos, and presentations to help showcase tangible examples of what they do and what they have achieved in their roles. These can be added to your Experience section and in the Featured section – with the latter having the ability for you to highlight posts and articles you have made on the platform which is perfect for recruiters who can display highly engaged with posts or any current roles they are recruiting for so that they are displayed prominently for profile visitors to see.




Ensure your Experience highlights the solutions you offer
A recruiter's LinkedIn profile should be all about making a positive first impression on potential candidates and clients rather than reading like a CV – and it's important that you avoid making this mistake when writing your Experience section.
You should keep your ideal target audience in mind by including a paragraph which not only summarises your role but outlines how you help them. This should be followed by a handful of bullet points breaking down some of the results you have achieved – where possible these should be quantitative to add real substance behind what you are saying.
For example:
Senior Recruitment Consultant – XYZ Recruitment

I act as a trusted advisor to marketing professionals who are looking to take the next step in their career and to companies searching for best in digital talent. I possess a detailed understanding of the digital marketing landscape and recruit for companies of all sizes and verticals based in London and the Home Counties (Berkshire, Buckinghamshire, Essex, Hertfordshire, Kent, Surrey, and Sussex).
I develop long-lasting relationships with clients. In just 18 months I helped increase the marketing department headcount of a tech start up from one to 12 people – placing each successful candidate.
I offer discrete career path consultations for marketers who are looking for a new role or to specialise in a specific area of digital, such as PPC, social media or email marketing
I deliver recruitment trend presentations at a number of digital events in and around London

It's incredibly important that recruiters are optimising their LinkedIn profiles so that they can be found by prospects and make a great first impression.