In the business world, and particularly in recruitment, people are considered a company's greatest asset – and rightly so. Not only do your staff get the actual work done, they also hold the key to your very best marketing strategy – employee advocacy.
Employee advocacy, the act of engaging staff to share their business' content, is known to be a powerful mechanism in boosting brand awareness amongst new audiences, and should certainly be encouraged by every business leader. However, while staff should be coaxed to share content and promote the business, it should always be voluntary and authentic. Good programmes will ensure that this is a mutually beneficial exchange. Here's how to encourage employee advocacy the right way.
What are the benefits of an employee advocacy programme?
Wider reach
Companies, especially larger firms, can have a wider reach through their employees compared to their business account. Hootsuite gave a great example which put this into perspective: "An organization might have a maximum social reach of 1,000,000 from their official corporate social channels. However, if your organisation has 10,000 employees and each employee has an average of 200 Facebook friends, 61 Twitter followers, and 480 LinkedIn connections, your potential social reach with employee advocacy would be 7,410,000. In this example, the organisation would gain a 741% increase in reach, compared to only using your official corporate channels."
In addition to your message going much further, it is likely to be perceived as more trustworthy too. According to global data from the Edelman Trust Barometer, employees are trusted by the public on social media channels more than CEOs, well-known online personalities, elected officials, and celebrities.
More sales
And of course, this has a knock-on effect on sales and revenue. LinkedIn and Altimeter Group analysed the top 100 most socially engaged companies on LinkedIn and found that socially engaged companies are 40% more likely to be perceived as more competitive, 57% more likely to get increased sales leads and 58% more likely to attract top talent.
Engaged talent
Employee advocacy and engaged talent goes hand-in-hand, and one can actually lead to the other. That is because engaged talent is usually eager to promote their company's content, and if some staff are not too keen on initially doing this, by interacting with team members and the business online, they will likely feel a greater sense of belonging, and will naturally be more engaged. Knowing that they are an important part in the firm's mission will likely have a positive effect on morale. Employee advocacy is particularly important to millennials, who expect digital connection with their leaders, community and peers.
How to encourage employee advocacy
Explain the benefits
Employee advocacy only really works when it is authentic, and is at its most powerful when staff are genuinely happy to share content. This mentality can be created by explaining to staff how employee advocacy can benefit them as well as the company. Sharing company news and industry specific media can build an employee's professional online presence and elevate their personal brand, ultimately boosting their career prospects.
Education
Employee advocacy can be through word-of-mouth, however, it certainly is more common and has wider reach online. This requires a certain level of social media savviness, which might not come naturally to every team member. Holding employee advocacy workshops where you can go over the basics of social media such as re-tweeting, quote tweeting and sharing will certainly be beneficial to many. Because of the complex algorithms today, some may not be aware of which is the best way to share content and get it seen. This is also a good opportunity to explain what is encouraged and expected. An Altimeter Group study found that only 45% of employees have a clear understanding of what they should and should not do on social channels when it comes to company-related topics.
Gamification
Gamifying your employee advocacy programme is a fun way to encourage the whole team to get involved. A bit of healthy-competition can motivate everyone to keep putting in effort and a reward for loyal, eager participants will certainly spur on many people.
To find out more about what we do, get in touch with BlueSky PR today.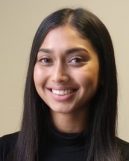 Author: Fahida Begum