The dialogue around robots coming for our jobs has been around for some time now. And as technology continues to advance, many professions have realised that this is the scary truth. However, despite the Office for National Statistics (ONS) reporting that 1.5 million people in England are at high risk of losing their jobs to automation - I'm confident to say that PR professionals won't be replaced by robots.
While the rise of technology is increasingly impacting the way that organisations hire, PR teams can rest easy knowing that their skills can't be so easily replaced by machines. I was once told, and this is widely agreed on by most PR professionals, that the four crucial skills that those working in Public Relations will always need (and we've also written about the skills a PR professional would be unsuccessful without) are good writing, research, project management and presentation.
Looking at writing ability specifically, the apt to craft copy to create impact is essential at a time when content can no longer demand attention. Despite the fact that computer scientists have developed an algorithm which can predict with accuracy whether a novel will be a commercial success, sticky web content requires those who draft it to tap into public consciousness quickly. In a world where audiences are drowning in information and attention spans are short, success relies on originality – something which is intrinsically at odds with machine learning.
The aforementioned blog also highlights another crucial attribute – curiosity. Yes, machines can be programmed to automate processes, spot patterns and even mimic human behaviour, but without a curious mind, innovation is impossible. And at a time when audience behaviour is constantly shifting in response to media fragmentation, this innately human trait is more important than ever before for PR professionals.
Personally, a quality that I believe is intrinsic to being a good PR professional is the ability to build relationships. This isn't only important for communicating with clients, so that you can completely understand their business needs, but also for building rapport with journalists. While having excellent copy and data is always helpful, having good connections in the media and with target publications will help your work be seen in the right places and by the right people. Although there are now some robots that can talk and respond, we're still quite a long way from being able to have meaningful two-way conversations with machines. Whether we'll ever get to this point is an interesting thought, but for now I'm sure we've all heard Siri or Alexa repeat "Sorry, I don't know the answer to that" and can agree that there is still some work to do in this area.
This perhaps explains why, according to a BBC tool which predicts what jobs are likely to be lost to robots in the future, advertising and public relations directors are some of the least likely professionals to be replaced. The data, which is supplied by Oxford University's Martin School, suggests there is just a 3% chance of such roles being automated thanks to a need to negotiate and come up with original ideas.
How technology is impacting PR
However, just because PR professionals won't likely be replaced by robots, doesn't mean that individuals working in the industry won't be impacted by technology. In fact, digital media, AI and robotics have already impacted the sector so much – and most would agree, for the better. For example, people no longer have to manually send press releases to publications via post or spend hours collecting newspaper cuttings of coverage for clients.
While this may be how things worked quite some time ago, there are a number of more recent examples of how technology has transformed the sector. Like many professions, public relations, as well as other branches of communications, has seen a rise in the use of artificial intelligence in recent years.
For example, Bloomberg uses a system called Cyborg, which according to The New York Times is able to assist reporters in creating thousands of articles on companies' earnings each quarter
One way that artificial intelligence is being used in public relations is that it is now able to send direct, relevant messages to specific audiences. Real-time big data offers practitioners the information they need to provide current content that consumers want to see.
Social media is also another form of technology which is leveraged every day to effectively reach clients' target audiences. Facebook, Twitter and LinkedIn campaigns are powerful ways of spreading messages and ensuring that your voice is being heard in all the right places.
How PR professionals can work with technology
Like many jobs, there are plenty of aspects of PR roles that are quite transactional and administration-based. Luckily, repetitive and time-consuming tasks can now be automated, allowing professionals to spend more time on the things that really matter. For example, more of the day can be spent on advising clients, creative writing, idea generation and doing the more strategic elements of the job. There are already AI tools to do things like schedule meetings, and while this may just seem like a small task, it can massively impact productivity.
Like most professionals in 2020, it's important that individuals are able to work with technology, utilising the platforms now available to make tasks easier, less time-consuming and more accurate. A blend of robotics and the human touch will deliver the best results for clients and delivery.
Can robots replace PR professionals?
While it can be easy to fall for the scaremongering or flirt with the idea of a sci-fi like future, realistically, robots won't replace PR professionals. This industry requires a unique combination or human intuition, reasoning, empathy and emotion - and this will be difficult for an AI machine to train for. Yes, robots will change many of our jobs, while also creating a host of new ones too. However, creative and original minds will always be in high demand and very much needed.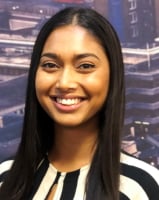 Author: Fahida Begum