If you had asked me two weeks ago how PR could've helped in my role, I honestly wouldn't be sure. But after just one week working at BlueSky I can see how integral PR is to help recruitment businesses stand out from the crowd and in turn increase revenue.
I have in-depth experience recruiting within the PR and communications sector for various clients across different markets. So, I can confidently say that recruitment PR is the perfect partnership to help recruitment companies reach their full potential in an ever-growing market. PR helps various sectors in raising brand awareness and creating engagement so why not use PR in recruitment?
1. PR attracts clients and candidates
PR separates recruitment businesses from their competitors and introduces new ways to attract potential clients and candidates.
As a recruiter you are constantly looking for the next best client or top-class candidate and, in an increasing competitive market, PR paves the way to a stronger business development and growth strategy. We'd love new business and candidates to come to us from our own credibility and expertise and this is exactly how PR can help.
A simple press release, for example, can be used in so many different ways across various social media channels to draw in your target audience. Your own consultants are the best way to share your content. It's crazy but employees tend to have 10x larger networks than companies and their content is 3x more likely to be seen as authentic.
2. PR drives engagement
Engagement is the key to successful business development. Using what's in the news and relating this back to your business can help spark engagement, showcasing yourself as a thought leader and allowing you to make connections which could have previously proved difficult. This allows you to really maximise your audience, increasing traffic to your website and in turn generating more leads. Let's be honest, warm leads are a lot easier to convert than cold ones.
Getting your name out there in relevant recruitment press will increase credibility and really showcase your expertise. I mean it makes sense, the more people that are aware of you, the more engagement you'll see. This content can be stretched and reused across multiple social media platforms to generate expertise and increase brand awareness. Content draws people in and creates an effective way for prospect clients and candidates to interact with your brand. Regularly using inbound recruitment PR and marketing means you are consistently being seen as thought leaders and you will be the agency clients think of first when they need recruitment support. Raising brand profile and credibility also helps to grow a business and expand the team, as potential new hires will want to work for a credible recruitment business.
3. PR advances Business Development
PR creates credible material for recruitment agencies to use to evolve their business development. PR helps create a more effective way to improve BD and the resources are at your fingertips. Recruitment CRM systems provide tons of data which can be used to create thought provoking pieces to trigger engagement. This data can be presented in different ways to target multiple streams of potential new clients and candidates. Using this data and recording the engagement it drives e.g. shares, likes, traffic and google analytics can help you to measure the positive effect that PR can have on the recruitment BD cycle.
Recruitment PR is a tool for business development. PR can be used as an added extension of your business, reflecting what makes you different from thousands of other recruitment agencies out there. The tools are at your disposal, PR can be presented to potential clients in various ways. Articles featured in relevant press are read by potential clients and candidates. This creates awareness and gives your prospect clients confidence that you are true specialists in your market, and in turn creates a different angle to pick up the phone and engage with potential clients.
Personally, integrating PR into my business development strategy would've unquestionably increased my client and candidate database and in turn grown the business and helped present the recruitment company as a leader in that professional market.
So, why wouldn't you use PR?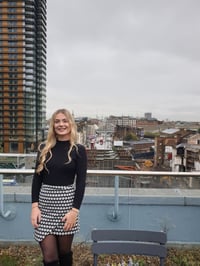 Author: Izzy Carnell