Working with business schools on day-to-day basis, you learn about the incredible array of courses that they offer. With some specialisms like luxury attracting very different profiles to finance or perhaps entrepreneurship, I wondered what our team would be interested in studying.
Account Manager Chris Johnson would have no hesitation in studying a Masters in Sustainability and Responsibility.
"It's mainly down to personal interests, which is important from a study perspective," he said, "but it is a route all businesses and professions are going to have to travel in the interest of the planet."
Peter Remon, Account Executive would choose a Masters programme too.
"I would do a Strategic Marketing Masters," he said, "as I really enjoyed the marketing modules I did at university, and many of the skills you would learn and strengthen on this programme would be easily transferable to working in the PR and Media industry."
Personally, my preference would be to study a Master of Business Administration (MBA) with a focus on management. I'm fascinated by people and how you can get the best out of a team. I'd also opt for a course in a non-English speaking country so that I'd have the chance to learn a new language.
Account Executive Kate Mowbray, however, would go for a Masters in Management (MiM) to avoid the more expensive cost of the MBA. She'd look for a diverse class and a wide range of modules.
"Sad truth is I'm too old for an MiM," said Ian Hawkings, Head of the Education Practice here at BlueSky, "so I think I'd go for an MBA full time.
"This might not have been my choice a few years ago but there are so many more options to your typical MBA programme now. I'd probably specialise in media with a digital angle – if I could find a course that could offer that! The one aspect of the MBA that hasn't changed is that the networking is amongst the most important elements – and that's something I'd look to leverage. Although I'm always intimidated by how smart they all are!"
Natalie Bishop, Senior Account Executive, would choose an MBA as well, but with a focus on tech.
"I think technology is going to become one of the most important, and perhaps controversial, issues in business over the next few years," she said.
Studying at business school is something that Senior Account Manager Kerry Ruffle had never considered in her earlier career but, looking back, she thinks that a pre-experience MiM would have appealed more than waiting to take on an MBA later in her professional life.
"The opportunity to build management skills immediately after completing my BA whilst that appetite for academic advancement was still present, to travel and study abroad and even get to grips with a language or two is something I feel I would have really benefitted from, particularly now working with business schools and media all around the world. I'm always inspired by the stories business school students and alumni share with me of their study experiences, and what they go on to achieve afterwards," she said.
"If I was considering business education at this stage of my life and career, I think I'd find it tricky to justify the time and expense required to take time out for an MBA, so the option to study online – something which has really grown in popularity and effectiveness in recent years – is something I'd seriously consider."
Want to know more about the BlueSky team? Get in touch! Find out how we could help your business school programmes get the attention they deserve.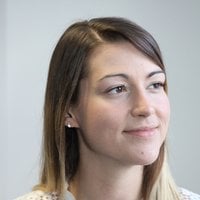 Author: Stephanie Mullins