I've been with the BlueSky education team for just over a month now, and it has been a learning experience to say the least. Coming straight out of university, in which I studied a pretty non-specific degree (History), I didn't really know much about PR – especially Business School PR.
However, having spent some time, albeit only a short amount of time, as a member of a team of true PR experts, I've learnt a thing or two about what's really important when it comes to business school PR. Here are my top four pieces of advice for anyone new to PR:
Read everything
What I mean when I say 'read everything' is that, at the start of your PR career you should be trying to get as much of an understanding as possible of what each top tier newspaper is all about – their style, the issues they focus on, etc. Understanding the media is – and I cannot stress this enough – vital to PR. Business schools and universities look to PR professionals as the experts on media relations, they should know who to pitch to and how to get their clients into that publication.
Now I'm not promising that just because you understand what the Financial Times' BizEd section typically looks like, you'll be able to consistently get your client into it, as, after all, this is the information age, and your story won't be the only story out there, but knowing what that publication is looking for in a story will give you, and your business school a competitive edge.
Your press release needs to be on point
The press release can be your best friend or the bane of your life, it all depends on whether you're any good at producing one. Now, I should start by noting that honing your press release takes time – it's an art, you see. But, it's crucial that you do what you can to make your press release as effective as possible, as without a strong press release your hopes of getting coverage for your business school or university will wither away.
We live in a time where higher and business education has never been such a crowded and competitive marketplace. To make things worse, it's become increasingly difficult to get the attention of journalists due to the sheer volume of emails, pitches and press releases they get. Therefore, it has never been more important to have an effective and efficient way of offering your client's story to journalists.
This may be a 'top tips' blog, but it's not a 'how to' one, so I'm not going to give you a breakdown of how to write a strong press release. Sorry. But if you do want to learn more about what makes the perfect press release, read 'how to write a viral press release on academic research'.
But what I will do is reiterate that it is categorically vital that you master your press release game, this is, after all, the ultimate test of a PR professional's competence.
PR falls into the umbrella category of communications, so as you might've guessed, strong communication skills are pretty important if you want to be successful in PR. For many fresh grads – such as myself – who have just spent the last three years or so writing essay after essay, and then finishing it off with a nice long thesis, communication is our 'bread and butter'. However, what a lot of graduates don't realise is that, the kind of 'communication' used in academic essay-writing, while apt for the professors marking them, doesn't work in the media.
Why?
Put simply – people won't understand what's being said, so the media won't pick it up. If you want to be successful in PR, you need to forget the notion that fancy and obscure words makes great writing. They don't.
The media is a supposed to connect people with all things new and different – you won't have any success with the media if the work you're pushing is overly wordy and exclusive.
Be clear. Be concise. Talk like a real person.
If at first you don't succeed…
My final piece of advice for anyone new to PR:
When you get to pitching and creating press releases for journalists, the likelihood is that you will either get rejected or ignored by the majority of them. That's normal. The key is not be deterred or disheartened, but to simply keep pitching and pushing those press releases.
Your business school or university isn't simply paying you to 'try' to achieve greater media attention for them, they're paying for you get them the coverage they want. So it's on you to keep pitching until you get the results everyone's after.
I could list off hundreds of useful insights I've picked up over the past month or so, but for now, they were just a few top tips for anyone new to PR.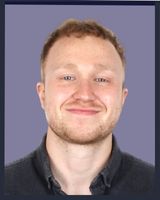 Author: Jonny Stone