Social media has bred a culture where it's become far easier for us to express our opinions and impose judgement on others. Whether this is a positive or negative change is debatable, however it's undeniable that the power social media can have over corporate behaviour has created a shift in our culture.
The past few weeks have presented something of a soap opera in the business sector as the villain of the pharmaceuticals industry that is Martin Shkreli eventually backed down following the backlash of the media after raising the price of a life-saving drug by 5000%. In case you missed the outcry here are a couple of 'must-see' tweets from Hilary Clinton to Dorset based business man John Carroll: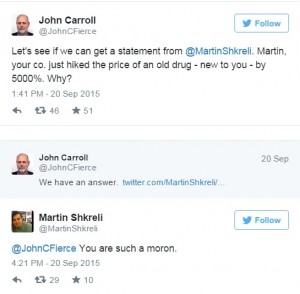 When it comes to vocalising our opinions there aren't many of us that would be willing to be as bold as our tweets, but it seems in this instance having the ability to express our views online has more pros than cons. Social media has enabled a group of people that could never gather in such abundance outside of the virtual world to come together and take a stand for what they believe in.
It would seem Twitter in particular has replaced the once conventional method for a formal protest around the houses of parliament to riot for change, and it works just as, if not more, effectively in seeing quick results. Whilst there are of course negatives to hiding behind your screen as you ruthlessly impose judgement on others, it turns out that having the power to do so can also inspire change. Maybe it's not so bad that our tweets can be bolder than our talk.
More links -