I've always been known as creative. It's a quality that's part of my identity and has certainly allowed me to grow organically into my role joining BlueSky Education as a Social Media Executive.
Being creative has allowed me to pursue so many different skills I never even thought I had. I've had the pleasure of exploring and developing these skills over the past few years, not just with my studies but also through my passions, from my genuine interests in photography to the media.
It started with making music videos. I could sit and edit these videos for hours! Then I started to explore different options that suited me, that satisfied the creativity I wanted to show and also involved the media.
Studying topics I enjoyed – like photography and the media – even earned me a nickname, 'keen bean', but I've always excelled in these areas. I was constantly excited to create content as it reflected who I was and my style through my work.
I knew my career was down a path that involved the media. Yet, within this field, there were so many options that I considered, from TV and production, to the news and much more. I have been honoured to have the most amazing individuals by my side to guide me through them and have an insight into them all. I discovered the social media universe to be so fascinating and knew it was perfectly suited to me. It allows me to keep up with new trends and news and explore the world from a virtual view.
At first, it was difficult to find the right role and the right company! There were a few bumps in the road. I was encouraged to go down other routes and other job titles, but I knew what felt right and that only I can act upon that, and therefore kept pushing until I found my dream job with BlueSky.
As a 'keen bean' and the so-called 'creative one', I am thrilled to begin my journey with BlueSky, to learn more about the marketing and PR world and how social media contributes to that.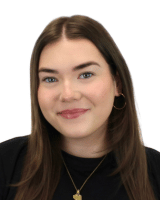 Author: Megan-rose Vince