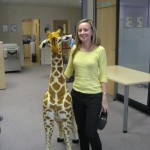 I'm not very good at these things, but let me give it a go anyway...
Some of you know and some of you don't, but tomorrow marks my last day at BlueSky and the end of an era!
Almost four years ago I started my journey at BlueSky HQ as a fresh-faced graduate knowing not very much about the world of recruitment, or PR. Fast forward to 2011 and well, I still look as young as I did back then, but like to think that I'm older and wiser. It has been an interesting few years - we've had the recession but also the boom in social media and the digitalisation of both the PR and recruitment worlds. What's more I have seen the company grow and have very much enjoyed being a part of it. Some of my highlights include our many trips to the waffle house, several drunken evenings at the Recruiter awards (we'll save those stories for a rainy day) and of course meeting all you lovely people along the way.
So a big thanks to Tracey, Adrian and the rest of the team for being so brill to work for / with and helping me grow into the PR 'rocket in your pocket' that I am today! And thanks to all the journalists, clients, and tweeters that I've had the pleasure of working with.
I'll still be tweeting in some capacity so you can continue to follow me or follow @blueskypr and the rest of the team for all the goings on at BS HQ.
Well that's about it folks - I'm going to wrap up before I get too emotional about my last BlueSky blog. But as they say, it's au revoir not goodbye...