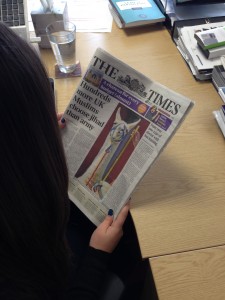 Perry is on the front page of The Times today. He is one of the few to make it to the revered printed paper and he will never care that he was there.
That's because Perry is a llama.
It's silly season at the moment in the UK; the period when our media spends a few summer months producing rather frivolous news stories. As it's not just us, the French call it la morte-saison - 'the dead season' or 'the dull season', Germany have the Sommerloch – 'summer [news]hole', and the Swedish have nyhetstorka – 'news drought'.
Perry, who made the front page by having his neck measured as part of London Zoo's annual animal weigh-in, isn't the only comical story to make the headlines recently. We thought we'd share some of our favourite silly stories with you.
Cute wombats, squirrels on a mission and alien thigh bones
An adorable baby wombat, rescued from the pouch of its mother after she was hit by a car, also made the print copy of The Times this week.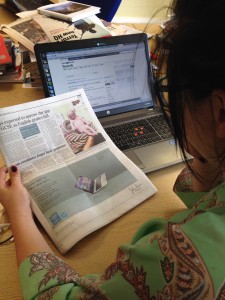 Alexandra Dobocan said: "This just stands to show how important a good image is to the printed press. I spent a good couple of minutes smiling at it. I think this picture is what they would call 'aww-able' in advertising."
It seems animal stories are some of the most popular at this time of year. Kerry Gill discovered a piece on a squirrel who stole from a bird feeder meeting his match when he tried to climb a pole covered in Vaseline – complete with video on The Metro site.
She said: "The Metro is hardly a go-to source for serious news, but even by their standards a story about a squirrel attempting to climb a greased garden pole would – at any other time of year – be relegated to the "weird" section of the paper.
"However, in August this piece (and others like it) become fully fledged news, placed under the 'news' header alongside the more serious stuff. No matter how funny or addictive the video of the squirrel is, it's not news."
The Guardian was also guilty of publishing some pretty obscure news, Bruce Callander discovered the news that an alien thigh bone is thought to have been found on Mars.
"It's a picture of a rock that people have claimed is an alien thigh bone – utter nonsense," he said.
From one odd article to another, Vickie Collinge spotted this headline in The Daily Mail - 'Engaged but not in the way she wanted! iPhone addict gets dragged across Beijing station after girlfriend finally snaps' – a bizarre story about a woman who'd had enough of her boyfriend being constantly on his phone. She took to dragging him through a train station in an effort to remove the iPhone from his grasp.
The silly season is not a new phenomenon
The silly season reached the dizzying heights of finding Victor Meldrew in space in the summer of 2005. The Sun reported that a group of scientists had connected stars to form an image of the sitcom character from One Foot in the Grave.
Ian Hawkings said: "This is the most famous silly season story of all-time. It was utterly ridiculous, and it was front page of The Sun."
So while hard news isn't making so many headlines, many of us are being entertained and intrigued by bizarre discoveries, amusing human behaviour, and wombats and llamas galore.
More links –
Seen a great silly story? Let us know and leave a comment below!